Maryland Style Crab Cake Casserole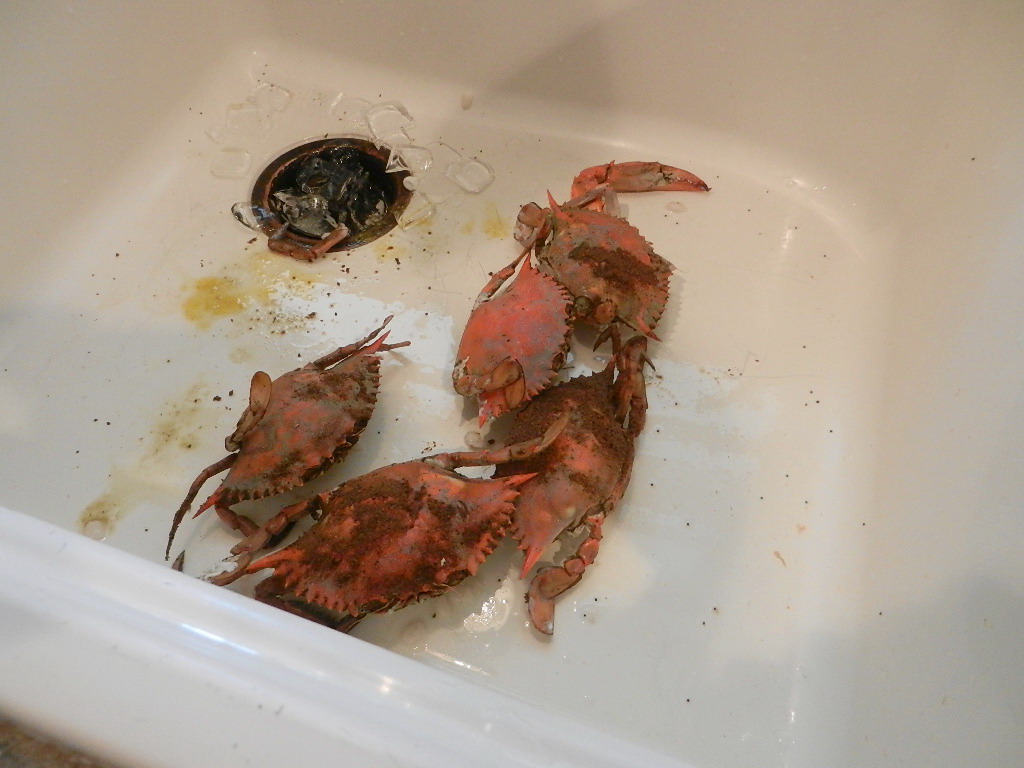 United States
September 21, 2015 10:54am CST
I was born in Maryland, that makes me a crab specialist. My parents owned a summer home on the Chesapeake Bay for years. I've probably picked more crabs and eaten more crab cakes than most people. My husband never ate a crab cake until I introduced him to them in a small restaurant on Tilghman Island, Maryland while we were still dating. We have crab meat in the freezer and today is the day I'll make a crab cake casserole. No, I don't make the official 'crab cake' any longer. I have found that for us it's easier to mix the ingredients and instead of forming cakes, I put it in an oven proof baking dish. So much less work and it tastes the same. My recipe is: 1 Pound of crab meat 2 Tablespoons of good Mayo 1 Teaspoon of Old Bay Seafood Seasoning 1/2 Teaspoon black pepper 1 Tablespoon of basic yellow mustard 1 Egg, beaten 1 Slice of white bread torn into small pieces (crust and all) Note: Feel free to use some bread crumbs in place of the white bread. I do that sometimes just to change it up. Directions: . Mix all the ingredients together, be gentle as to not break up the big lumps of crab meat, . Use a little Pam spray on a baking dish, the kind with a lid is the best, . Put mixture in the dish, cover and bake at 350 degrees for about 25-30 minutes. . Remove the cover and bake another 10 minuets. Naturally you would eat this hot, but it tastes pretty goof cold also!
6 responses


• United States
21 Sep 15
Oh, I wish you were able to get crab meat. Hum, make 'fake' crab cakes - maybe you could use tuna or some other type of fish - with with Old bay and other ingredient it might almost taste the same....

• Switzerland
21 Sep 15
@AbbyGreenhill
I will try with tuna, the taste will not be the same, but I want to try.

• United States
21 Sep 15
@LadyDuck
It's worth a try and it might not be the same, but it might be really good.



• Boise, Idaho
22 Sep 15
It's delicious. If you are a fish eater that is.

• United States
22 Sep 15
@celticeagle
That's not fish LOL - I hate fish but love crabs and shrimp.

• Boise, Idaho
23 Sep 15
@AbbyGreenhill
I love all fish except sardines and such. Just wanted to let you know about the guidelines.


• Austin, Texas
26 Sep 15
So true. Maryland folks are crab and crab cake specialists.

• United States
26 Sep 15

• United States
21 Sep 15
That sounds really scrumptious.

• India
21 Sep 15
I too like crab,but not cakes.I cook it in a pan with chilli,ginger, a little oil etc added. I like it spicy.

• United States
21 Sep 15
I thought I replied to this comment, I guess it didn't 'take'...we like just a little spice I don['t want to kill the taste of the crab.

• Boise, Idaho
22 Sep 15
This sounds really good. I wanted to let you know that you might want to check but when Mylot was up before recipes were not something that went along with the Guidelines. So you might want to check into this.