I've got a lovely bunch of rambutans (deedly dee)...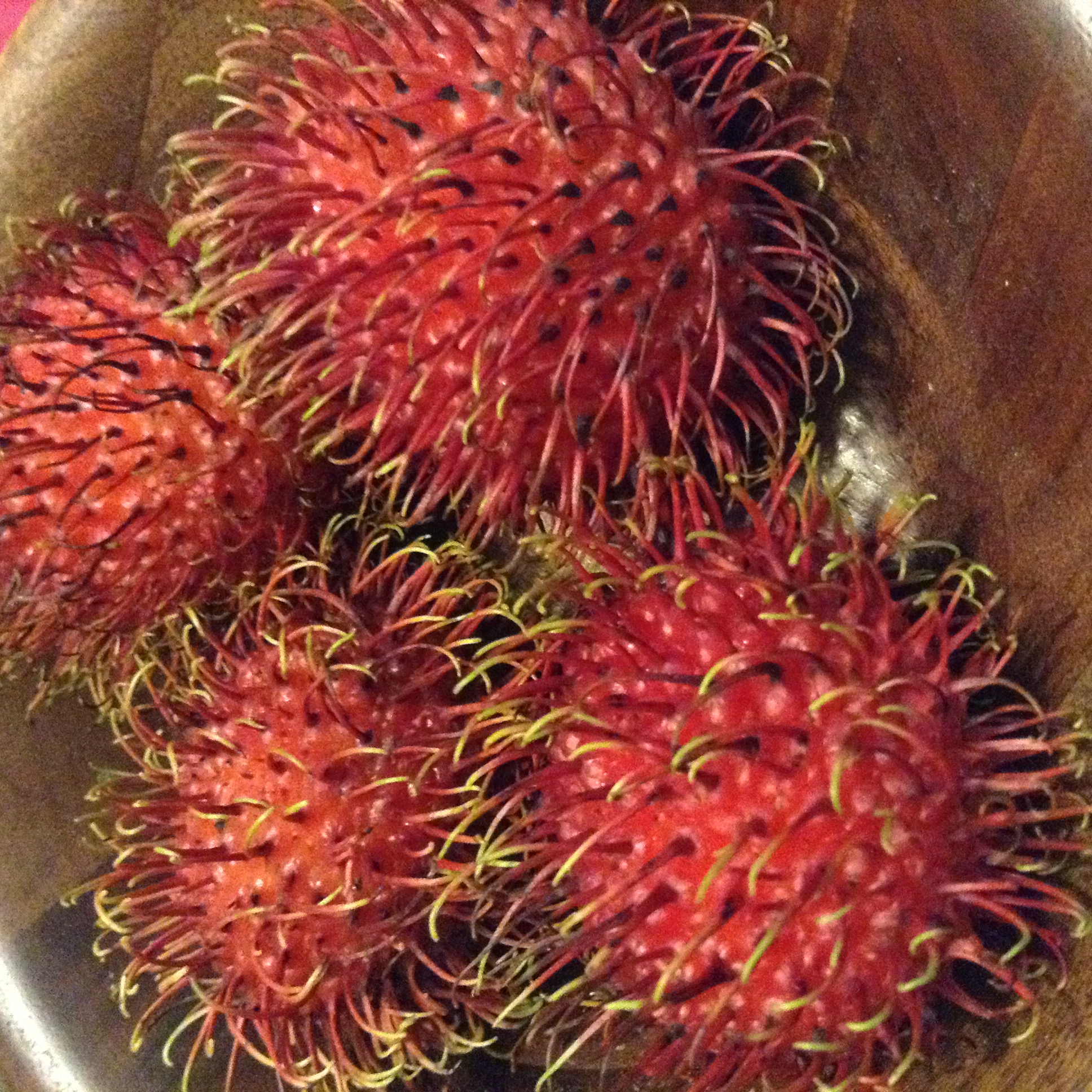 United States
September 21, 2015 12:57pm CST
There they are, a-sittin' in the fridge... and my poor husband has no idea what to think of either them or my habit of picking up weird produce at the grocery store.

Have you ever seen one before? They look really intimidating, but the spines aren't sharp. Once you get past the inedible peel, there's a clear fruit inside that tastes kind of like grapes or lychees. They have almond-shaped pits inside them, which aren't edible raw but can be roasted. Apparently they have mild narcotic properties...

I'm sure we have some myLotters who live in the areas where rambutans are native. Isn't it funny how something that's completely normal where we live can be so exotic in another part of the world?

5 responses

• El Paso, Texas
21 Sep 15
What a strange looking fruit ......

narcotic?

now you know all those pot heads are gonna be hittin the stores for these Right?



• El Paso, Texas
21 Sep 15
@yukimori
probably would work better anyways, besides, if ya make your own pain remedies at least you know watt is in it (or not in it) You've just made me realize how lucky I am, I don't take any kinds of meds

• United States
24 Sep 15
@rebelann
Yeah, it really is a pain in the neck. I've just discovered that peppermint oil works just as well for me as the prescription junk I've been taking.

I smell like a candy cane factory exploded on me, but I'll take that over the alternative!


• El Paso, Texas
24 Sep 15
@yukimori
I don't do meds, don't trust chemicals and besides, chemicals are derived from plants so I think you've got the right idea .... might as well smell like Christmas, right?






• India
22 Sep 15
That is the irony of life. What grows here abundantly is dumped in compost pits

• India
24 Sep 15
@yukimori
I live in a place where all are well to do. After giving away here and there and there being no market I have to dump them in our compost pits. The nuns used to pick them for their poor but they too have problems getting here.

• United States
24 Sep 15
@allknowing
Ah, that makes a lot of sense. Sometimes the logistics just don't make things possible.

• Garden Grove, California
21 Nov 15
wow they look sort of spooky but I imagine once you peel them they are good to eat. wonder why they have all those spiny things?

• United States
24 Sep 15
aw, looks like purty sea urchins! ne'er heard 'f 'em i fear. wonder how that seed roasted 'd help with inflammation? yepperz, what's the norm in one neck 'f the world is most exotic in others. don't reckon i've e'en seen/eaten a lychee neither? mercy if'n i jest don't live in a hole.