The Princess will Hate It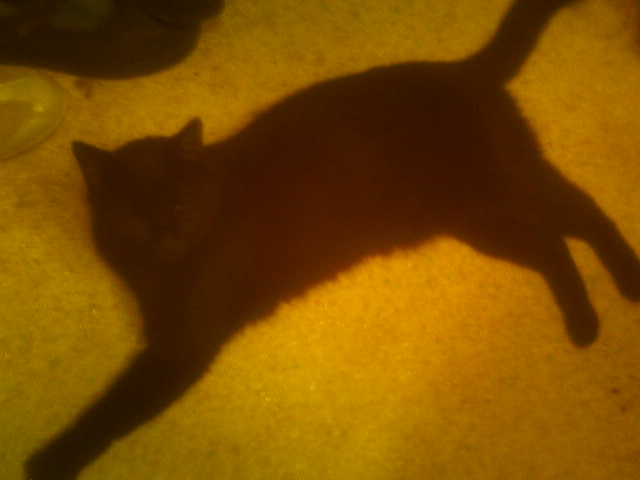 United States
September 21, 2015 1:34pm CST
Frugal, cheap skate? Crafting deprived. I do not know. I needed a carrier to help Princess with the move. I need a safe place for her to travel and to be in while we have doors open and going in and out at the new place. I saw a neat soft sided carrier. . . but the one in her size, the box was empty.

. The carrier cages that were big enough for her cost just way too much. Twenty-six dollars to be exact. Moving is expensive. I do not know if we would ever use it again. Soooooo. . . I bought a sterlite tote. It cost $4.96. I also bought a package of plastic canvas for $1.97. Today I cut a hole in the top and a hole in each side. I put an entire sheet of plastic canvas in the top. Half a sheet on each side. I have E6000 on hand, and duck tape. I put the canvas inside the holes and glued it down with E6000. I then taped the edges down with duck tape. It should hold together. The only down side is that I will have to carry it with two hands, no suitcase handle on the top. I will put a cushion and a small blanket in the bottom. Princess still will not like it. She does not like to be told what to do and when.

I ended up with a bright blue storage tub with windows made of hot pink plastic canvas.

8 responses

• United States
21 Sep 15
That was a very smart idea that you had there.

• United States
21 Sep 15
I have seen people just secure two laundry baskets together, but that looked a little more awkward to me. Thanks.

• El Paso, Texas
21 Sep 15
Back when I had Spunky I'd simply lock him in the bathroom while I got stuff moved in, he hated it. Then, once I was totally moved in, I let him roam to his hearts content, he ended up on the very top shelf of the closet for the first couple days. Not sure if you can do that with Princess though.

• United States
21 Sep 15
Oh, we will lock her in, possibly our bedroom, I am not sure. It is such a long process for us and the changes really are bothering her. She just got herself locked in the washing machine a while ago.

• El Paso, Texas
21 Sep 15
@GardenGerty
Poor Princess, I'll bet that really terrified her.

• United States
21 Sep 15
I love those tubs! That's a pretty neat way to repurpose one, but I'm sure Her Highness won't think so. You might want to think about adding a few holes to fasten the top to the sides with something like zip ties. Depending on how mad she gets being in there, she might be able to pop the lid off and escape.

• United States
21 Sep 15
There are holes at the top of the handle place, I would just need to do the lid. Or, I could put a bungee cord on the whole thing. I just could not stand the price of a cage.

• United States
21 Sep 15
@GardenGerty
I don't blame you one bit. Those things are expensive, and if it's not something you'll use regularly why bother?

• United States
21 Sep 15

• United States
21 Sep 15
Thanks, Marie. I have had to put my ingenuity on hold for a while.

• Garden Grove, California
15 Dec 15
sounds like you did a brilliant job of improvising instead of spending a lot for something you probably will not use again .

• United States
22 Sep 15
Ya gotta do what ya gotta do. We went the cheap way one time and moved the cats it cardboard carriers we got for $5 from the vet. One cat was so freaked out he ripped a hole in it and escaped from the box as soon as we got to the new house. We did eventually get him inside, but that was a huge ordeal!

• United States
22 Sep 15
Very cost efficient! I knew that you had a cat named Princess but I have to be honest in saying that at first I thought you were making an attention grabbing title referring to Princess Kate! I hope your Princess will be pleased enough with her custom carrier.

• Ft. Lauderdale, Florida
22 Sep 15
Thrift shops always have cat/dog carriers, usually they are top of the line for almost nothing.