What kind of Pet(s) have you (I) had Part 2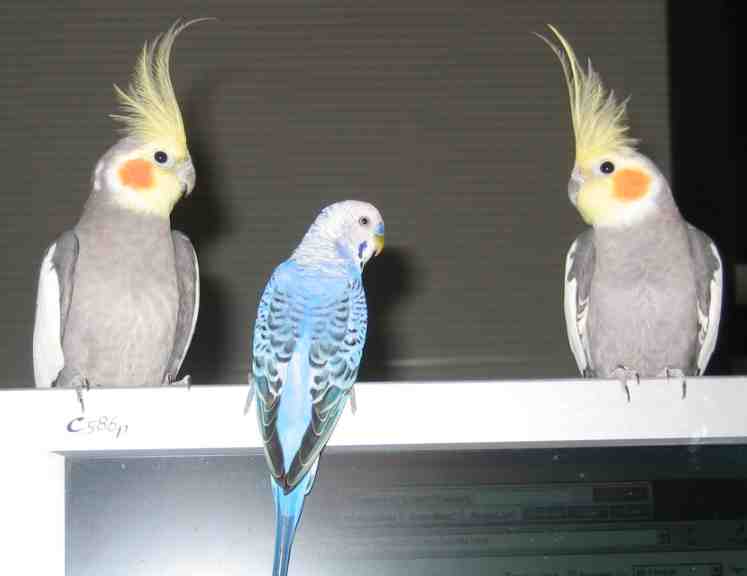 Ft. Lauderdale, Florida
September 23, 2015 7:42am CST
It was 10 PM on a November evening and time for Loner's treat--I spread some seed out on a piece of newspaper on my dining room table for her, while I worked on the computer--a few minutes later I turned around and she wasn't there (most of the seeds had been eaten.) I looked in the kitchen because she liked to look for stray seeds in there--No Loner. All the doors were locked, window closed, screens secured--I panicked thinking maybe she got stuck behind the fridge or stove--no Loner--I looked in EVERY room, every closet, even in the freezer, under the bed, behind all the furniture--no Loner. To this day I don't know what happened to her :o( I was thinking of getting another tiel but I didn't want to get that attached again so I decided to get a couple of Zebra finches--long story short--from that couple I had 17 zebra finch babies!!!! They are worse then rabbits! I decided to separate the males and females which isn't the easiest job in the world because these birds are fast but within a couple of days succeeded--the females still laid eggs now and then but they were infertile--at first I felt very guilty about tossing the eggs but knowing they would never hatch I tossed them when 3-4 have accumulated. (They don't need nests--they will lay their eggs in the food cup, on the cage floor, anywhere.) At sundown, the budgies would be chattering away and the finches chirping--what a delightful sound--with 21 birds I expected complaints from neighbors but they were so low that you can't hear them outside the door even when all 21 are going full blast. I do have 2 empty cages and whenever I go to the bird shop I want to buy some to 'fill the cage'--Thank God my friends who come with me hold me back! I have decided that I will, someday, get another tiel but that will only if and when I go into a bird shop and a tiel hops on me and refuses to get off! I have found nothing but joy from owning--(heck, whom am I kidding, I am their slave) and taking care of them is a minimal amount of time. Feed them, make sure they have water and clean paper every day--once a month I would really scrub their cages clean, change their perches and toys. And they would be on my schedule--they would not get up, make a sound until 11 AM when I got up. Their sounds would fill the apartment with sweetness--watching the finches take baths are a joy to watch and the antics of the budgies put a smile on my face all day. I suggest if you have never been a bird owner look into it BUT do research first. Long story short,without going into details, because of having COPD I had to give up all the birds--now I just enjoy the flock of wild parrots that visit the tree outside my window every day at 4 PM! (To enlarge the picture click on it.)
4 responses

• United States
23 Sep 15
I have never had a bird as a pet but I think once before I said my aunt had one and he was a parakeet who was really a nice bird than a friend had two love birds but they were so messy that I know they are not for me. I have my dogs and cats and that is plenty for me.


• Ft. Lauderdale, Florida
23 Sep 15
I had no problems with my birds. Yes they can be messy but it is very easy to handle that.

• United States
24 Sep 15
@GreatMartin
Maybe because she wasn't really into the birds but I know they were a messy bunch.


• Ft. Lauderdale, Florida
24 Sep 15
@Marcyaz
As I said all you have to do is learn how to save yourself trouble--every Sunday I lined the bottom of the cages with 7 layers of paper--every day took out the top dirty one--also had a plastic mat under the cage which caught all the hulls of the seeds and I would shake that out once a week--once a month cleaned out the cages--that was/is a lot easier than bathing dogs/cats, emptying litter boxes, washing water and food bowls, taking them out for walks, etc., etc.


• Newcastle Upon Tyne, England
26 Sep 15
I'm sorry you had to give them up, but I'm pleased the parrots visit (and I'm jealous you have wild parrots) x

• United States
26 Sep 15
If the house was locked up so she couldn't get out, she had to be there somewhere.