Silly Kitty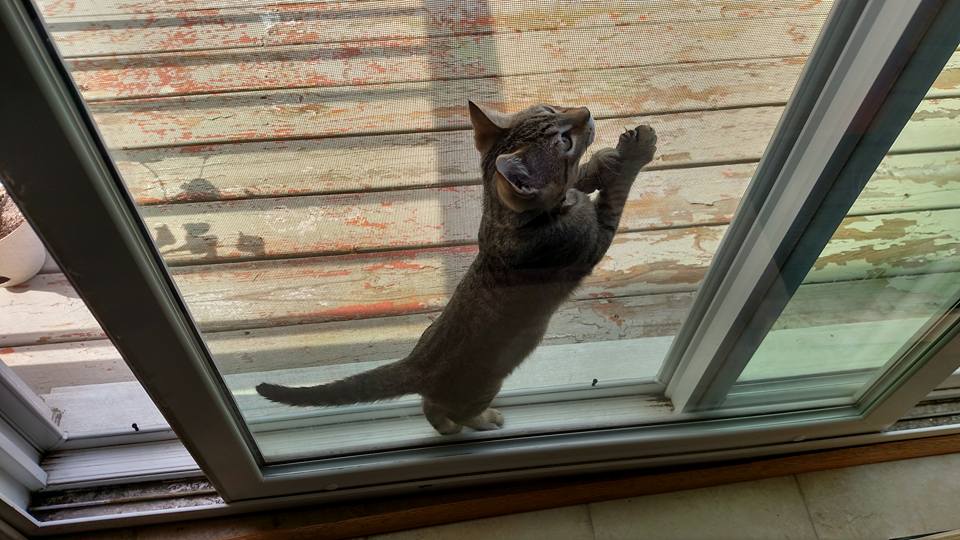 United States
September 23, 2015 1:43pm CST
I try not to be surprised by the things my kitten, Captain does, but sometimes he does something so odd that I get surprised. That's what happened a few days ago when I came into the living room and found him between the glass patio door and the screen door. At first I though he was stuck, but he is able to get himself out of that spot. I thought, after the first time, that he might stop going in there, but I was wrong. Every time I have the door open only part way, he climbs in there. I don't understand it, but he seems to like it there. The only way I have found to keep him out of there is to have the door either all the way shut or all the way open. I guess I just have to keep hoping that he grows big enough to not fit and then the problem will have fixed itself.
8 responses

• Shreveport, Louisiana
23 Sep 15
Kittens are adventurous. They always try and find new places to squeeze into. If they can't fit into it they will try for hours until they give up lol.

• Shreveport, Louisiana
24 Sep 15
@fawkes62
My kitten use to always get on top of the fridge. She never knew how to get down though so I had to help her down.

• Philippines
24 Sep 15
@MrZ0mbiesFanatic
our dog who has been squeezing into a new spot for several days now suddenly 'forgot' how to get down and was whimpering last nigh because she needs to poop or pee.



• Shingle Springs, California
24 Sep 15
Hm must be something very fascinating going on in there. My cat, Jason, likes to wait until I'm done folding laundry and picks up sock rolls in his mouth before they're put away. He walks them across the house, meows, and drops them.

• United States
23 Sep 15
That's pretty funny that he choose that place to squeeze into. He's probably enticed by anything flying around outside. He's so cute



• India
24 Sep 15
I wonder if he sees image there that he thinks is another cat

• United States
24 Sep 15
Ah yes, kittens do love exploring and they do love squeezing into tight spots. They are such a joy to watch. It is always great to see them learning new things and growing and realizing things, just like with kids. And yep, once he gets to big to squeeze in there, he will find something else to explore. Capatin is adorable.

• United States
23 Sep 15
It is kind of odd that he likes to be in between the door and the screen. Our dogs and cats can be weird sometimes.