DR TELLS ME TO GIVE UP COFFEE DRINKING ..... NEVER !!!!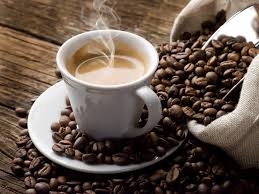 Thermal, California
September 25, 2015 7:59am CST
I dont drink or smoke. I weigh 121 lbs. But my blood pressure is alittle high the dr says. So he tells me to give up my one habit. Coffee drinking. yes i drink 4-5 cups a day. Have for 20 years or more. Im not giving it up now or ever. Even if its bad for me.
10 responses

• India
26 Sep 15
Even i like coffee very much and it is difficult to give up once addicted. Earlier i used to take two cups in the morning and two cups in the evening but now just one cup in the morning and sometimes one cup in the evening . instead i will take ginger tea in the evening which is tasty and healthy too

• Thermal, California
27 Sep 15
Ive heard your ginger tea is good. Do you add anything to it?

• India
29 Sep 15
@kayshope
Yes. i add shadow dried Senna (cassia) auriculata flowers, black pepper corns, cumin, and dry ginger , powder all of them nicely, and store it in a bottle. daily i will add 1/4 spoon to the hot milk withsugar, stir it and sip. it is good for health. ginger helps in digestion, removes gas from the stomach, cumin is good for pitha, pepper takes care of the cold, fever , throat infection and cassia is a very good herb which cures so many health problems and u can find its its medicinal properties in the net

• Thermal, California
29 Sep 15
@vathsala30
sounds real good and very healthy. we have a special store here for teas. Im going sat. Hope i find it there. take care...


• United States
11 Oct 15
Instead of giving up coffee you could try flavoring your coffee with cinnamon. Cinnamon helps regulate high blood pressure. Vinegar also helps as well. Take 1 tablespoon of vinegar mix it into warm water with honey to sweeten it and drink it 30 minutes before you eat every morning and at night before going to bed.

• Thermal, California
11 Oct 15
thanks. Ill try those. How have u been lately?

• United States
12 Oct 15
@kayshope
I am doing alright. I also have high blood pressure. Of course mine is not mild. It is quite serious. Even with the cinnamon and vinegar daily I still have problems.


• Thermal, California
12 Oct 15
@Shellyann36
dont mess around that blood pressure is very serous.. hope u get it under control soon. Hugs !!!



• Thermal, California
25 Sep 15
amen sister.. its really my only bad habit...

• Philippines
7 Jan 16
Looks like there are a lot of coffee dependent people around here like myself.



• Thermal, California
31 Dec 15
I have some, just not my favorite. Unless you know of a good decaf. brand. Ive tried yuban and folgers just dont do it for me.

• United States
12 Oct 15
I'm with you, I wouldn't give it up either! I love my coffee. Maybe you could just cut back a tiny bit for now?

• Thermal, California
13 Oct 15
i will , from 6 cups to 5 .. haahh love my yuban coffee....

• United States
25 Sep 15
That is how my ex feels about smoking. As long as he can afford it he will smoke.

• Thermal, California
27 Sep 15
so darn glad I dont smoke. 7.00 a can for coffee 7.00 a pack for cigs..


• Thermal, California
27 Sep 15
I have cut back.. just alittle.

• Philippines
7 Jan 16
Haha... I like the conviction there. Maybe it's the same thing goes for me. I'm not diagnosed with anything yet. But I'm not sure I can ever give up coffee.


• United States
23 Oct 15
Eat more fish, take fish oil capsules. Do a little meditation, it helps as well and would not mean giving up coffee.