Evolution of watches and clocks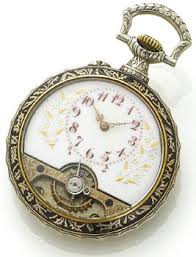 Sri Lanka
September 29, 2015 5:12am CST
Evolution of watches and clocks Have you ever noticed the evolution Of the faces of watches and clocks ??? At first most of the watches had numbers printed from 1-12. All numbers were visible around the clocks's circumference – later the numbers like*1.2 4.5 7.8 10.11 were omitted 12 3 6 9 were only printed on the face. Later while all the numbers were being omitted a short line was replaced instead of the numbers. next the face of the watch had no numbers. Only shortlines were there the clocks's circumference. Then these shortlines at 12,9,6,3 were only visible –others were removed-Then all the lines were removed from the watch face. After that the second hand from the watch was removed. Then all the hands in the watch were removed. I meant digital watches and clocks were introduced. (If you think I have missed a step in the Evolution of watches and clocks please mention that) However Evolution of watches and clocks symbolizes something interesting. That is, how the inner mental feelings of human beings change over time. To me this change is dramatic. Because for all these changes, it took less than a century. So what's the change next that will add to my topic " Evolution of watches and clock " Do you guess any changes that will visible in the future watches and clocks ??? Do you this explanation is incorrect ????????
1 response

• Leicester, England
29 Sep 15
One missing step is apparent on the clock that I have in my room as I write this. My grandfather was presented with a clock in 1898 - I wind it regularly and it is still ticking and chiming away 117 years later! (It keeps terrible time, but that's a different story!) The point about the evolution of clock faces is that the numbers are in Roman numerals, which used to be very common, One oddity about clock numbers was that the number for 4 was never IV, which might have been expected, but IIII. I'm sure that there is an explanation for this, but I don't know what it is!

• Leicester, England
29 Sep 15
@topffer
That's interesting - I haven't heard that before!

• Sri Lanka
29 Sep 15
But I have seen my father's watch has IV on it. Did you mean only tha " clock numbers" not watch numbers ????