Crazy Garden Painting!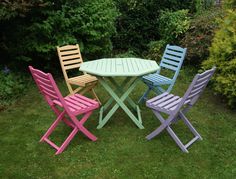 Sudbury, England
September 30, 2015 8:01am CST
I only popped out to the garage to unload the Tumble Dryer, and got waylaid by the beautiful Autumn sunshine, and simply had to hang around and enjoy it,I just love the air in Autumn and not too many bugs, still lurking around to eat you, so I decided to paint a couple of garden chairs, that were a bit tired and shabby. Guess what colours....Beetroot and Seagrass, as they are slatted, so not too difficult to get straight lines....may sound delicious or disgusting, depending on your taste, but they actually look quite 'designer-ish' and slightly 1920's...though my poor old dad may not think so...he like most 'ole timers' was definitely a dreary green or brown, garden man. So just popped in while the paint dries, before I head off into the sunshine again...if the Apple Pie, I stuck in the oven, on the way through is cooked. Hope you are all enjoying a sunny day too...it's a long, grey Winter ahead!
7 responses

• Saco, Maine
30 Sep 15
Your chairs are lovely! And being a purple and green lover myself, those are my favorite! Good work there!

• Vancouver, Washington
1 Oct 15
well sounds like the pie is right down our isle love the chairs thou they are really beautiful

• Sudbury, England
2 Oct 15
I call them 'Gaiety in the Garden'..ideal place to eat Apple pie!

• Preston, England
1 Oct 15
the chairs look great from the photos here

• India
1 Oct 15
Multi-tasking is what I would call this - painting, myLotting and baking


• Vancouver, Washington
30 Sep 15
those are really pretty i can see the colors those stand out and match really well together