Autumn* In The City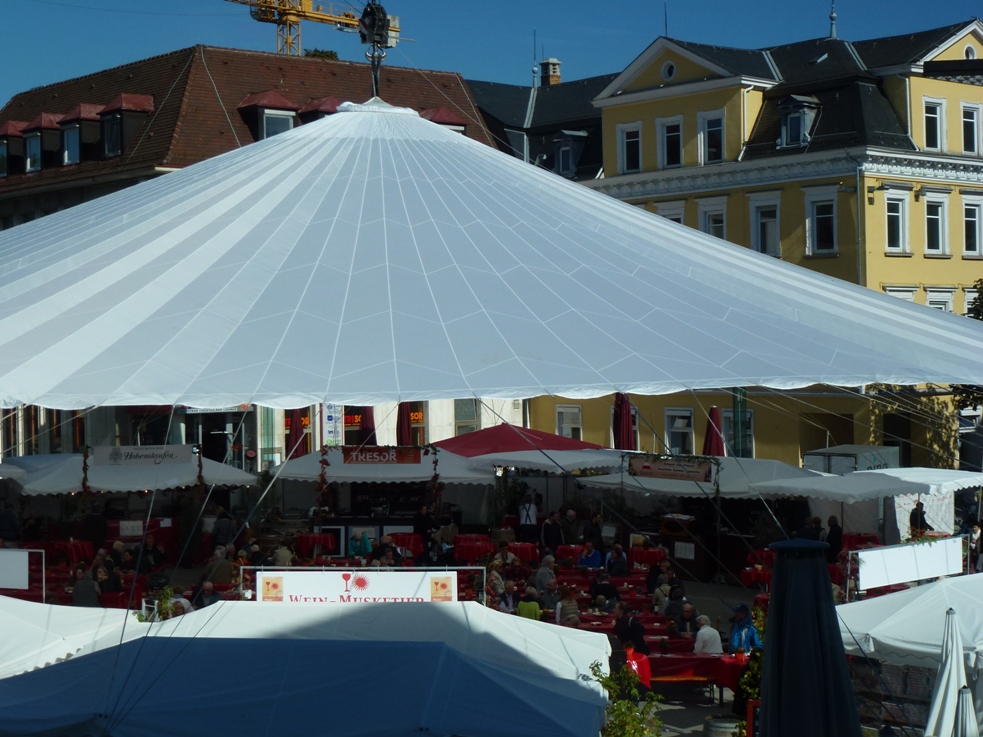 Uzbekistan
October 2, 2015 2:07pm CST
My faithful online buddies from the B site may recall the 'beach' we had on the market square in our small town in Germany for the duration of our summer holidays. Now that autumn/fall has come the shop-keepers have organised something different to lure people to the centre and into their shops, namely the Wine Festival. This year it's the 12th time that people can sit on benches under a huge white roof spanning the whole market square and eat, drink and listen to music. It ranges from oompah music and Schunkelmusik (schunkeln = swaying to music while sitting down, arms linked with the people to the left and right) to rock and pop. In Germany shops are closed on Sundays. In our region only two Sundays a year are so-called Shopping Sundays. Tomorrow will be one of them. Not only the citizens from our town will go shopping then but also people from the surrounding towns and villages. I'm retired, I can go shopping whenever I like. You won't see me tomorrow anywhere near the centre. I'm demophobic, i.e., I don't like crowds. I can't understand how people throw themselves voluntarily into the densest melee and even enjoy it. Well, each to their own. The food is provided by restaurants. You don't find the obligatory sausages without which no German festivity is complete. You get real menus here with a choice of meals and many different wines from Germany and other countries. The highpoint is a suckling pig or rather several. I don't know how many will be eaten during the six days of the festival. The weather is usually good at the end of September/beginning of October. Should it rain, the roof can keep the wine and food aficionados dry. But it's a good idea even in dry weather because it creates a cosy atmosphere. I'm sure that on Monday we'll read in the local newspaper that also this year's Wine Festival has been a great success. *Fall ------ Please click on the photo to get a better impression.
9 responses


• Saco, Maine
2 Oct 15
@Inlemay
Interesting approach. I'm 65 and I would never dream of jumping a queue anymore now than I did when I was 20. I find it rude no matter what the age.



• United States
2 Oct 15
sounds great.At one time I use to love crowds.As I got older avoid them a much as possible. Yes,things changes when older.



• Holiday, Florida
3 Oct 15
here we call it octoberfest and it is celebrated as a german holiday. wish i could see it in your country. sounds wonderful


• Ireland
2 Oct 15
That sounds great, though I too am demophobic and would require a tent of my own.