Where is the favorite place you want to travel?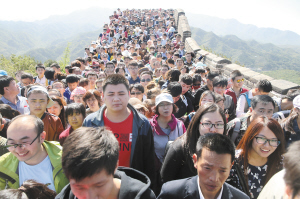 Zhengzhou, China
October 3, 2015 4:36am CST
China's National Day is celebrate on Oct. 1st, which is to commemorate the founding of the People's Republic of China. But for me, I love more than the seven-day holiday from Oct. 1st to 7th. The holiday is so-called "Golden Week". Most Chinese people will choose to go traveling with their families. I also want to, but this year, I decide to go nowhere. Look at the picture taken from the Great Wall, you will know why. But, domestically, there are still a lot of places I want to go, for example, Tibet, Inner Mongolia...What about you?
3 responses


• Zhengzhou, China
4 Oct 15
Paris is a city of romance, wish one day you will have a good time there.


• Zhengzhou, China
3 Oct 15
That's because you don't know China's situation. If the government didn't have this holiday policy, companies and those working units would not allow the employees to have a continuous long holiday.


• Zhengzhou, China
4 Oct 15
Three years ago, I went to Spain, and visited Barcelona, Madrid, and Toledo. I really love Toledo, it's an old town, quiet and beautiful. If you are also a travel enthusiast, maybe you can try to go there.