OOhhh SO CUTE..... can I have a lift please....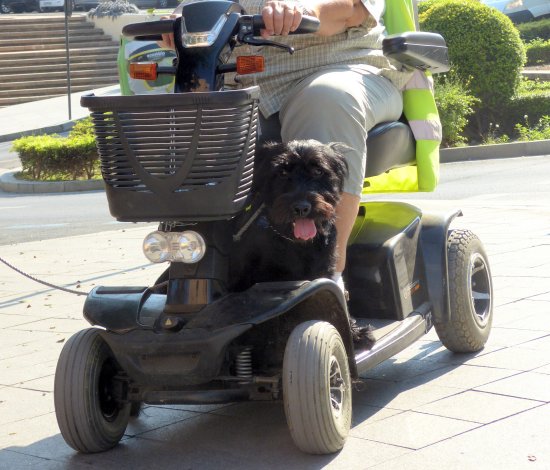 Alicante, Spain
October 3, 2015 4:47am CST
The photo is of our cheeky puppy, bosun who will be one year on the 1st November. I took the photo yesterday, while we were out walking... He is hitching a ride on maggies mobility scooter.... when he was younger he was very poorly, and while recovering we took him for walks... but when he got tired he would jump on maggies scooter and hitch a ride... the thing is, he loves it on her scooter, and likes to ride still.. so we let him sometimes, after he has had a walk.... When he gets on the scooter, lots of people smile as we go by because he looks so cute, and sits on it very proudly and confidently watching the world pass by....



7 responses


• Alicante, Spain
3 Oct 15

• Daytona Beach, Florida
4 Oct 15
@sueznewz2
Bosun is adorable. My cat Sid sends him sincere meows and will add him to his list of online furry friends. lol

I know I wouldn't be able not to smile seeing Bosun riding by.



• Alicante, Spain
3 Oct 15
exactly who doesn't enjoy a free ride... lol's...



• Alicante, Spain
3 Oct 15
yes I know... I just sent this to show you what our little lad gets up to .. not as a remedy for your chap.... have you started him on the yumove yet.... ?

• Alanya, Turkey
3 Oct 15
@sueznewz2
Oh yes, started him after our discussion last weekend, he's a week into his loading doses already - we'll see how he feels about getting into the car next weekend.


• Alicante, Spain
4 Oct 15
We're putty in his paws.... lol's


• United States
4 Oct 15
oh my! i can really tell how much he's grown from that last pic i saw 'f him coppin' a free ride,

. i don't blame 'im, i'd be hitchin' me a ride's well with ms. maggie if'n she'd lemme.