No Kind of Smoking is Good...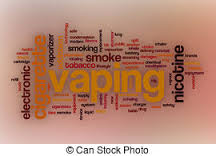 Duncan, Arizona
October 5, 2015 8:44pm CST
I used to be a 2-3 packs a day smoker of cigarettes. One day, I asked my husband to buy me a vaping kit, it was the day before Christmas, two years ago. For the price of a carton of cigarettes, I got a vaping kit and extra battery, extra tip, extra charger and (3) 5m bottles of vaping liquid. They sell vaping liquids from 0 nicotine levels on up.I have literally not smoked a cigarette in two years, never even cheated. Problem is, I still vape and it is hard for me to let go of the nicotine fix. My husband was a heavy smoker also, he chose to vape with me and quit the cigarettes.Financially, vaping is not expensive and you are not inhaling the tar and other carcinogens. I breathe a lot easier. The money we spent on cigarettes, still astounds me.I just traded one smoking habit for another, and hoping to let go of vaping soon.
8 responses




• Duncan, Arizona
7 Oct 15
Kudos on never having started! Nasty addiction...Spent weeks cleaning brown from my walls and windows.


• Duncan, Arizona
7 Oct 15
Yeah... vaping is cheap and the other quit nicotine methods are expensive.


• Duncan, Arizona
6 Oct 15

• Zhengzhou, China
6 Oct 15
Sorry, it's my first time to see the word "vaping" and I searched it immediately online. Now, I know what it is. Health is the most important, not only for yourself, but your family members, isn't it? Wish you will be able to give up smoking/vaping one day!

• United States
6 Oct 15
i tried the vapin' thingy 'n i reckon if'n they actually had the 'feel' 'f a smoke i'd been more inclined to use such. yepperz, tradin' one evil fer 'nother aint ne'er a good idea. i smoke herbal cig's myself coz the nicotine 'n crohn's jest didn't go together well. still not a viable solution i fear


• Malaysia
6 Oct 15
It seems to be a trend here among a lot of smokers who want to quit. I hope you'll gradually give up vaping as well.

• Duncan, Arizona
7 Oct 15
Thank you I seem to be able to go a few hours at a time now without that nicotine fix.

• Canada
6 Oct 15
Good luck with your plan to quit. I wish you the best