flu vaccine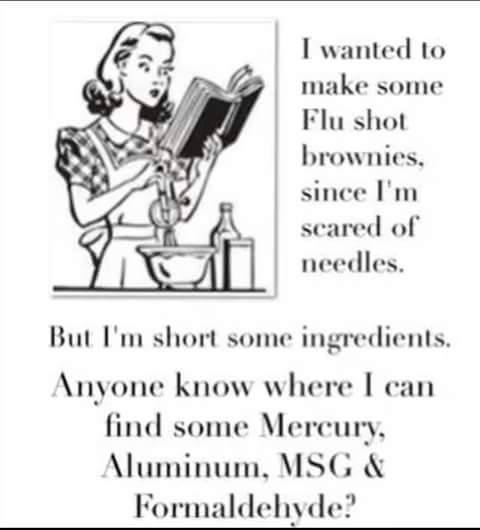 Pea Ridge, Arkansas
October 8, 2015 8:32pm CST
I've been reading up on this relatively new vaccine and some of the ingredients are just mind boggling! I truly don't think injecting formaldehyde, aluminum, and mercury into your body could be healthy for you in the long run. What are your thoughts on this? http://www.cdc.gov/vaccines/parents/vaccine-decision/ingredients.html
7 responses

• United States
9 Oct 15
Oh yes, in fact when they made me get those for my son, it did do some damage..the kids vaccines. I really dont like to think of what is in those.

• Pea Ridge, Arkansas
9 Oct 15
They made you? It wasn't an option? What do you mean by some damage? What did it do to your little guy?

• United States
9 Oct 15
@Jadedjinn
Yes it was not an option. They said either I get him the vaccines or he would not be allowed into public school! Yes his leg turned in and he was so very very sick at both ends. And now he has enlarged heart..he was fine and healthy b4 those shots.

• Pea Ridge, Arkansas
10 Oct 15
@TiarasOceanView
I'm so sorry :'( that's not right! The things they do to the people of the world has to stop!



• Pea Ridge, Arkansas
9 Oct 15
When they first came out with it, listening to people talk about it gave me a really creepy feeling so I never would get it. My brother got it a few years back and he got very sick the following week. The schools pass it out to the kids for free, I won't let them stick my babies with it... This time of year I give my kids a cup of thyme tea and they don't get the flu... I think about what I put into my body a lot these days and more about what goes into them... your husband gets it, you don't, and yall get the flu roughly the same amount... that simple fact speaks volumes!

• United Kingdom
9 Oct 15
@Jadedjinn
Exactly! My husband does have health issues, and his doctor advises him to have it, so he does.

• Pea Ridge, Arkansas
9 Oct 15
@jaboUK
does it every worry you? I'm always wondering about things like this. They say things are good for you then years later we find out that's not true. Just like enriched flower, it causes diabetes. The whole thing reminds me of lab rats in an experiment...



• Pea Ridge, Arkansas
10 Oct 15
Same here.. The herb/spice thyme supports the immune system more specifically it benefits the lung. I drink a cup every other week or so this time of year and I don't get any colds/flu in the lung.

• Switzerland
10 Oct 15
@Jadedjinn
I hate everything chemical, included vaccine and pills. I also use herbs and spices, they worked for our ancestors and they are good for us.

• Pea Ridge, Arkansas
10 Oct 15
@LadyDuck
exactly! :-D I spend my free time reading about different herbs. I purchased some sun dew seeds but they didn't grow. It was very disappointing.


• United States
9 Oct 15
I just had my flu shot and I am fine. I just wish it is more effective. I have a compromised immune system now and have to be fully immunized. If you eat processed food or use makeup and nail polish, you are putting far more chemicals into your system, than a flu shot.

• Pea Ridge, Arkansas
10 Oct 15
True. I use non of those thankfully and am working on raising all my own food, it's a slow process because I don't know a thing about farming but I sure am learning lol if you know of a food that had formaldehyde in it please let me know! Echinacea and thyme are natural immune building herbs. All the benefits without the side affects.

• United States
10 Oct 15
@Jadedjinn
I'm very impressed that you're growing your own food. I think that's a giant step toward good health in many ways. I also have a huge organic garden. I'm sure you'll catch on to gardening quickly. It's one of the best ways to be outside.

• Pea Ridge, Arkansas
10 Oct 15
@NeldaHoxie
it really is! :-) I'm not doing so well with it just yet. I think I started to big with not enough supplies because my ducks ate every blossom all summer then a few weeks ago something came and ate my ducks and chickens. I'll just spend the winter collecting materials and try to make it better next year. Determination will overrule the frustration! Until then it will be a few herbs in the windows lol


• Canada
9 Oct 15
The flu season is about to start here and everyone over a certain age is encouraged to have a vaccine.

• Pea Ridge, Arkansas
9 Oct 15
I refuse to get it. We drink thyme tea. It works, it's safe, heck Iit's just a spice but the health benefits for the lung are wonderful!

•
4 Mar
I feel fine getting the flu shot here in Jerusalem. I do not get the flu.