Quantico

Hyderabad, India
October 9, 2015 1:36pm CST
Finally I made time to watch new tv series quantico, starring priyanka chopra. I must say priyanka has done a very good job, except for the accent. It was so fake. But she did full justice to her role as fbi agent. I can't wait for the next episode. Anyone else watched it?
4 responses


• Malaysia
12 Oct 15
I only saw the trailer but they were all saying it's enough to tell the whole story. Maybe you can verify that?

Didn't quite notice the fake accent, though. Probably it wasn't so obvious from the trailer.

• Hyderabad, India
12 Oct 15
I have seen the trailet but I didn't notice it..I'll check it again.

• Philippines
11 Oct 15
What is it about? Don't know a thing about it. Is it popular in your country?

• Hyderabad, India
11 Oct 15
It's about fbi agent. It started recently ..it airs in starworld

• Austin, Texas
29 Nov 15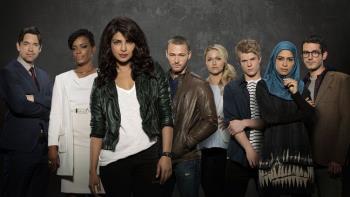 My husband is a loyal Priyanka Chopra fan. Which means? Which means watching the show is required. Agree with you that PC has done and is doing a great job. But the constant flashbacks of life at the FBI training academy and then switching back to the current state of affairs is
annoying!
The script writers really did not think this through. If it weren't for the fact that Ms. Chopra was in the show and we just have to figure out who framed her as a terrorist, it wouldn't be on my list of TV series that must be watched! Two thumbs up for Ms. Chopra making the crossover into the American entertainment industry.


[Image credit: hollywoodreporter.com]