Halloween Party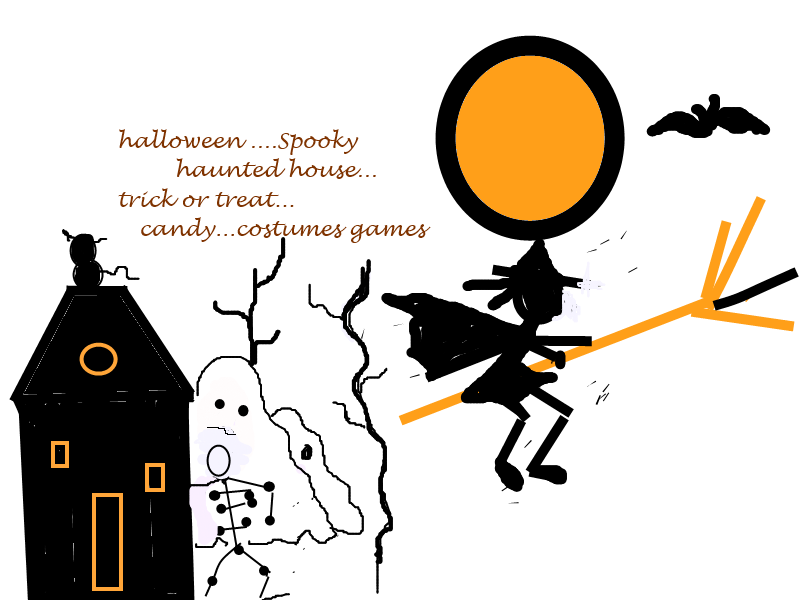 Duncan, Arizona
October 10, 2015 3:53am CST
During the 1960's Halloween was a big deal, for my dad and his extended family. The adults and teenagers in his family, would put together a Halloween Party and Haunted House for the kids. All the kids would gather at my uncle and aunts house,then we would all go trick or trating around the neighborhood. The haunted house was created in an old wood tool shed,built at the side of the house. The path to the shed had trees on either side of it, so it was quite scary to walk down the path at night with no lights.Usually a parent with a flashlight would guide 2 or 3 kids into the haunted house at a time. There were rubber bats and spiders hanging from the trees, and a huge spiderweb crafted out of string and torn cotton.The door to the toolshed had a big scarecrow standing in front of it with several lit pumpkins at its feet.There were all kinds of creepy sounds coming from the shed,chains rattling, screams, footsteps etc...When you walked through the door you were greeted by a witch with a green face.The witch would guide you through the different rooms cackling.The ghost room had ghosts made of sheets hanging all over the room.Occassionally a ghost would follow you around or jump out and scare you with a boo!The monster room had a mummy,zombie,frankenstein and other creatures that moaned at you.The back room was a science laboratory, with egor, and dr. jekyl at work on some creature.The werewolf or the vampire would take you to the table with a card in front of a big bowl and you were to try and guess what food the brains, guts and eyeballs were when you put your hands in it in the dark, if you guessed right you were given a treat bag with a popcornball cookies or rice krispy treats and a toy. The house was large and had a front porch on it where, a card table was set up to carve a pumpkin and your choice of a pumpkin to carve and take home with you. We always saved the seeds to dry out and bake with salt to eat as a snack later in the week. The living room was decorated with streamers and balloons, and the dining room had halloween snacks and treats, complete with a cauldron of dry ice smoking in the middle. The food was dyed with food coloring to look like eyeballs(meatballs)worms(spaghetti),jello (orange)cupcakes with spiders, chips and dips,sandwiches that looked like goo and so on and so forth. The kitchen was set up to bob apples out of a big metal container,and after you retrieved your apple you would dip it in caramel and roll it in nuts to eat.There were pinata games, basketball, hoops, pin the tail on the black cat and other fun games in the basement. The adults conducted a halloween contest and first place got the big toy,but eeryone else got a prize also.It was a fun, magical night for us. Do you have a favorite, halloween memory?
2 responses

• United States
11 Oct 15
Wow your folks really like Halloween! Sounds like an awesome time for a kid. I love all of the creativity and the consideration that your family went through to create a great holiday for you and all of the other kids.

• Duncan, Arizona
11 Oct 15
Thank you...they were all awesome to us.

• United States
11 Oct 15
@sherryeb
you are quite welcome. Do you perhaps have any photos of this that you can share?

• United States
11 Oct 15
mercy, they sure went all out, didn't they? no ma'am, i've no recollection 'f anythin' e'en comparable. we lived out in the sticks when i was growin' up 'n ne'er went trick 'r treatin' 'til i'd young'uns big 'nough to go.