Correct Marriage Age?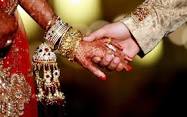 India
8 responses

• Mangalore, India
19 Oct 15
I feel there is no such thing as correct marriage age unless your only aim is to have children within a wedlock , which means biologically it is better to have children before a certain age...Other than that one shuld marry only when one is mentally ready for it !

• India
19 Oct 15
Yup I totally agree with you...........

But as you are from India you might be aware of its cultures and traditions...... Once a boy gets at the age of 21 and a girl of 18 the parents are all over them to get married......... They don't even think once or twice about the carrier of their children.... All they bothers is about what people would say........ So what's your opinion on this????????

• Mangalore, India
19 Oct 15
@sanketwagh
It does not happen within my community , 21 and 18 were ok when girls were home bound and there was joint family system but I doubt if today's youngsters are ready to marry that early when they are still not mature enough and financially sound ...

• India
19 Oct 15
@kiran8
Yup even I agree with you........ But still there are such kind of people around us.......... I have so many examples of such kind............. And moreover I think there should be a awareness camp held to educate such kind of people in our society who even encourage child marriages as well...........


• Thiruvananthapuram, India
19 Oct 15
lol! for me I wont prefer any ageas my friend
@wiLLmaH
said whe you are able to handle yourself, that day you can handle a family

• Thiruvananthapuram, India
19 Oct 15
@wiLLmaH
Is that for me or to him lol! i want answer lol! haha



• India
11 Oct 15
Exactly but still a person should also be physically ready for the same........

• Malaysia
27 Oct 15
I suppose in their late twenties for the ladies and early thirties for the men and especially when they are ready to take their vows to spend the rest of their lives together, but both would need to be sure that they are financially stable before they decide to raise a family of their own.

• India
30 Oct 15
@Jlyn10
Pleasure's all mine..........


• New Delhi, India
20 Oct 15
@sanketwagh
,All I can say is it is the age when you grow both physically and mentally prepared for discharging the responsibilities of your family.Only physical maturity is not enough.

• New Delhi, India
23 Oct 15
@sanketwagh
,Marriage has a lot to do with the mental maturity of both the spouses.If both or any one of them is mentally immature,then it would destroy the family.

• India
23 Oct 15
@else34
May be what you are saying could be true.......... But I have heard a lot of successful stories of people in which either one of the two is immature, still the other one manages to carry out through their lives and finally ends up with a successful happy ending..........

• Cochin, India
19 Oct 15
Normally a society or government fix a marriage age for woman and men mainly as adult age

ie minor to major. It is not compulsory to wed in a particular age. If you have mentally, physically strong enough love and understandings, finance is OK then there is no probled

• India
19 Oct 15
Yup even I agree with you......... But what would be the case if financially the guy or the girl is well settled and also they have a valid age for marriage........ But still they are not mentally prepared for the marriage stuff and all the other things and their is a huge peer pressure on them...... What do you think should be their decision in such a case?????

• Cochin, India
1 Dec 15
@sanketwagh
If you want to earn and settle before marriage then take a decision to how much to earn and study and what are the liabilities. then take a wise decision. If you want to avoid all your liabilities and want to earn like a prince before your wedding -- I will say that it is not a proper decision.


• Philippines
20 Oct 15
In the first place, there is no "correct" age for marriage. The appropriate term for this is "right" or "appropriate". And then your next question is a preference between love and carrier (sic). Answers to these questions may vary according to the culture of every country and likewise the answer to the second question is too subjective. I may not have time to support and justify my answers.

• India
20 Oct 15
Yes but we would be more happy to hear a answer or atleast a opinion regarding the same.........

• Calgary, Alberta
20 Oct 15
Age 30 is the most ideal age to get settled down! By that age, one has adequate experience about LOVE!


• India
20 Oct 15
But I guess having experience about love is not enough........ One should also be mentally prepared to get into all that stuff............