Fresh Fish Anyone?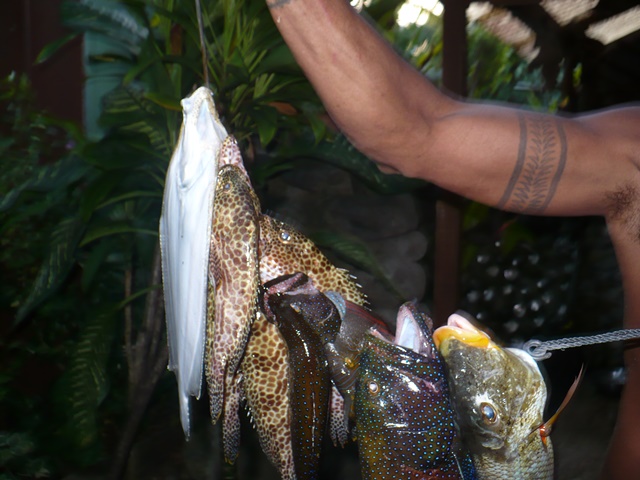 French Polynesia
October 11, 2015 2:38pm CST
Yesterday was so warm, the water in the lagoon so calm and was just the perfect day to go fishing. We had a great day fishing and caught a lot of fish for dinner. Now I have plenty of fish for the next week to eat. I love fresh fish. Has anyone ever tried fresh lagoon fish with curry? This is so simple and easy to make. Curry is made with butter, flour, and coconut milk. All basic sauces are made with butter, flour and milk. I just use coconut milk for my sauces because I can't drink milk. Well anyhow you just need to put your fish in a baking dish and cover it with curry sauce and allow it to cook for around 20 minutes in your oven. You know when your fish is done because you can easily use a fork to see the flakes of the fish. Add some veggies and rice and you have a feast for dinner.
4 responses

• Nairobi, Kenya
11 Oct 15
I love fish too. I wish i were your neighbour i would have come for some and probably join you in fishing next time ha haa

• French Polynesia
11 Oct 15
Finally I was able to upload the image thanks to a little help. Here is the catch and what we brought home. Fishing here on the islands is different and it is a lot of fun too.

• Nairobi, Kenya
11 Oct 15
@poehere
Waoh nice one and they look colourful too lol

• French Polynesia
11 Oct 15
@Missmwngi
They are beautiful and what makes it so much fun is our lagoons are like taking a bath in fresh water. You can see all the way to the bottom of the lagoon.


• French Polynesia
11 Oct 15
Thanks so much. Yes this was only a few hours fishing. We only take what we need for the week and leave the rest to grow up more. All small fish are let go so they can grow up larger. Except if this is your first fish you catch for the day then you keep it. Here it's bad luck to throw your first fish back.


• French Polynesia
11 Oct 15
I found out it all depends on what fish, where it is caught, and the water it grows up in. I have eaten some fish that tastes like dirt. Plus if you know how to cook it that also makes a big difference.

• Chile
11 Oct 15
I love fish. We hace good fish in my country as the water of the ocean is very cold. Chilean sea bass is coveted all over the world. Yummy!


• French Polynesia
11 Oct 15
We have plenty of sword fish, tuna red and while and some excellent lagoon fish. Trying to edit the images now so I can upload them to my post.