Taxi Co.But None For Hire!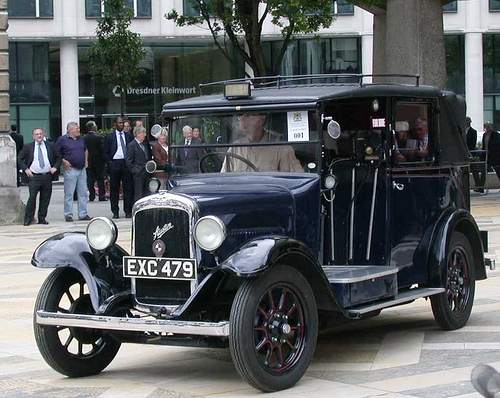 Sudbury, England
October 13, 2015 1:31am CST
Registered as a Taxi business, licenced as a Taxi Hire Company, but No taxis for hire! Why is that? The one taxi cab in the 'fleet' belongs to Michael O' Leary, CEO of Ryanair... so is he splashing his cash on unnecessary frivolity? Nope! As a licenced Taxi company, he can use any dedicated Bus Lane, without fear of prosecution,and easily avoid any normal traffic jam, that ordinary mortals have to suffer in silence. Be an interesting scenario, if 8 out of 10 Joe Bloggs, decided to apply as a Taxi Hire business!

8 responses

• Cambridge, England
13 Oct 15
One part of me says (in effect), "It's alright for the rich, ain't it! They can buy whatever convenience they want!"; the other part thinks that it's logical for an airline to have its own taxi hire company, even if they don't actually ply for hire, because CEOs may need to get to meetings quickly and they may also need to transport celebrities and other big-wigs in chauffeured cars. I think that most councils have a limited number of licences for hire cars so it wouldn't really be possible for everyone to pretend that they ply for hire!

• Sudbury, England
13 Oct 15
@owlwings
Yes of course,this is true, But......things slip through, my hubby has a Taxi licence, but Council's are rarely on the ball, we have 12 Hackney cab places in the town,,,but the council have issued around 25+ licences, so where are the excess Rank cabs supposed to park, without police moving them on....never rely on councils to do a proper job, they're too busy reading today's newspaper !

• Cambridge, England
13 Oct 15
@bookbar
It sounds like the Council are operating an "over-booking" policy on the grounds that at least half the taxis will (might) be out working at any point in time! I think that's one reason why so many taxi firms rely on phone bookings these days.

• Preston, England
13 Oct 15
what a loophole. I remember the poll tax in the UK when they said religious properties were exempt - one man declared his pet parrot to be a god so his house was its temple - I suspect it didn't work




• Cambridge, England
13 Oct 15
Even more sneakily, he could 'hire' the car out to other arms of the business and claim for expenses as well as get tax relief on the losses!

• Cambridge, England
13 Oct 15
@Asylum
That's why rich people get rich and stay rich!


• Northampton, England
13 Oct 15
He's a slippery character that O'Leary. Nothing would surprise me.


• United States
14 Oct 15
People will go to any lengths to get over on others. Sad when you think about it. One thing I will say, here in NYC, the HOV lanes were done over and where it used to be that two or more people in a car could use it, it is now 3 or more people. Maybe that as one reason this guy did this.