Have you tried walls magnum?

Karachi, Pakistan
October 13, 2015 12:03pm CST
I love ice creams and i love walls magnum .My daughter was going at near by store and she asked for some money I asked for what?she said I will be buying magnum ice cream and i hurriedly handed over 200 rupees to her and requested her for mine too.Here we find two flavours I like the one with nuts.Do you like magnum?have you tried it?
6 responses


• Dundee, Scotland
26 Sep 16
One magnum is never enough- I can testify to this. A box contains 4 and I have seen me eat all 4 in a very short space of time. Quite expensive though. But we'll worth it I think.

• Roseburg, Oregon
13 Oct 15
I do not even know what it is.


• India
13 Oct 15
I have heard about that brand of chocolates and its been in a boom nowadays because of lot of branding and publicity.......... But I have also heard that they are made from the tissues, flesh and skin of pigs........ So my advice would be to avoid such brands which are not yet very familiar to us......... Not really sure about this rumors but why to take risk???????

• India
13 Oct 15
@amnabas
As it is well said :- Better to be safe then sorry......


• Quezon City, Philippines
14 Oct 15
Yes, magnum ice cream are worth the price and it's very delicious to eat.

• United States
13 Oct 15
I have never had it before.

• Dundee, Scotland
26 Sep 16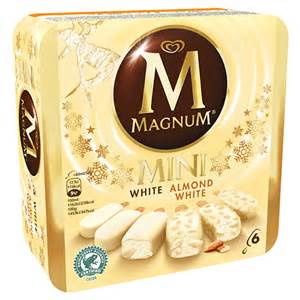 Hello there. You said two magic words Walls Magnum Omg they are good. All the varieties are good. The ones with the nuts are really good. But the white chocolate ones are sublime. Please try them if you get them where you are.