My Favorite Town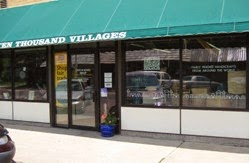 United States
October 15, 2015 12:24pm CST
Some of you have heard me talk of going to the next town over from where I live called Mountain Lake. There is a store there I like to go to and it is run by volunteers for the Mennonites. It is a Protestant Christian group with sixteenth century European origins. Most Mennonite children are educated in the public school system rather than in traditional Mennonite schools. Instead of oxen and draft horses, Mennonites in Mountain Lake rely heavily on mechanized transportation and modern farm equipment. The women wear black bonnets and longer dresses whereas I see no difference in the men's clothing. The store has new and used items and the new items of crafts and housewares are from Asia, Africa, Latin America and The Middle East.
10 responses

• United States
15 Oct 15
I always wonder why the women have to dress in such dated clothes, but the men just go around in typical clothing. It's just not the Mennonites. I see Moslem women covered in their heavy black gowns here during the hot summer, while their husbands wear shorts and t-shirts. I get wanting to be modest, but sometimes it seems very extreme.


• San Marcos, Texas
15 Oct 15
I too don't understand the dressing, but since i'm not one of them who am i to tell them



• United States
2 Nov 15
Oh, I would love to see a store like that near me.

• United States
2 Nov 15
I have never met such kind and wonderful people when you walk in the door it is like they have known you forever. I love going in there if nothing more than just looking around. They always greet you and have a smile on their faces.

• Grand Haven, Michigan
16 Oct 15
Those kinds of stores are awesome!



• Boise, Idaho
15 Oct 15
That sounds like one we have here. Not run by any certain group but with products from all over the world. Refugees could make money there to live. I was bummed to hear that a couple of weeks ago the building burned down. The community is helping them get it going again.

• Genova, Italy
15 Oct 15
I, although being Catholic, I know the Protestant Church, with its reforms of Martin Lutero. However I have never heard of the Mennonites.