Happiness is ... annoying your sister!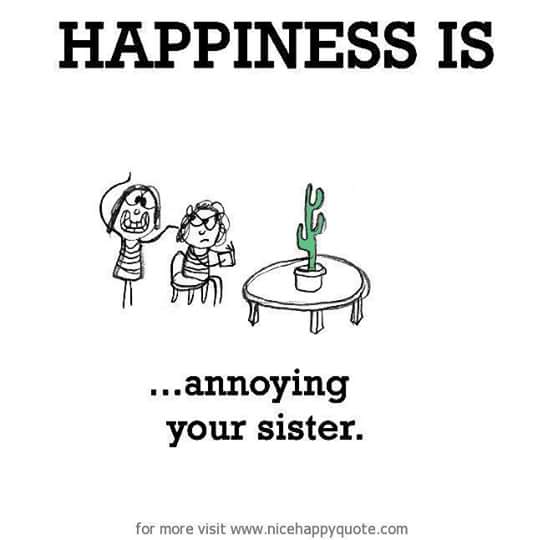 Philippines
October 16, 2015 2:32am CST
When I saw that picture from a Facebook friend's post, I suddenly remembered my childhood. I grew up with my siblings - two older and two younger. I remember when everyone's busy and I got nothing to do, I look for my older sister. She's ten years older than me. I don't know why but I enjoy annoying her. She is my favorite target. I will sit by her side while she's busy doing her homeworks. Sometimes, I hide her pen, draw on her notes, throw her stuffs, distract her by making annoying noises, anything that will drain her patience. I thought she would hate me because she used to tell me that. But as we grow older, she became my best adviser, protector and friend. She's like another version of my mother.
7 responses


• Philippines
16 Oct 15
Yeah :) HAHa . that's why I always bully her .. it made me happy, and happier when she's almost crying :D



• Hyderabad, India
16 Oct 15
this is all about siblings life.we love, we fight,we argue,and again love each other.some siblings cannot live with each other and fight all the times and cannot live without each other.its like cannot be placed together and cannot be seperated. our siblings can be our true teachers,motivators.

• Nairobi, Kenya
16 Oct 15
It creates a bond actually and i can imagine she always thought you are just a small kid

• India
16 Oct 15
Yes. Though I do not have a sister of my own, the friend that dad had, had a daughter and we were fighting alright. At times I staged a few. I thought dad will understand I am not happy and have it tough with this family. But it never did happen that way. Anyway, I miss her. That is the casualty of relationships that break.

• Vancouver, Washington
17 Oct 15
sounds like you were involved in everything she did

• Vancouver, Washington
17 Oct 15