Egg-zactly!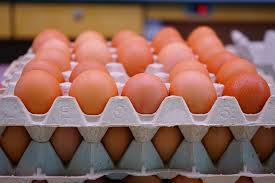 Saco, Maine
October 17, 2015 7:21am CST
Awhile back, I wrote a post about how the price of eggs had gone up drastically due to a bird flu epidemic wiping out entire flocks and rendering eggs as unsafe to eat. According to the so-called experts, this would naturally result in eggs costing more until the flocks were fully reestablished and production resumed at its former rate. My question is this: If so many eggs and hens were destroyed, why didn't we see a shortage of eggs on supermarket shelves? One of the reasons I read about was that the big egg producers turned to local farmers whose flocks had not been infected and who, of course, charge more for their eggs. Still, not a single store I shop in has ever shown a shortage of eggs, and the cases are still full all the time. Walmart, for some reason, still charges the most for its eggs, while other stores have found a way to lower their prices so as to keep the eggs moving. When I was at Walmart yesterday, I noticed that not a single space was open between the cartons of eggs, which means that no one bought any at least during the time I was there. The prices at other stores are coming down very slowly. But the cases are still full. From what I know about chickens, it takes 3 months for a hen to mature to laying stage, and each hen lays one egg per day. Hmmm...seems to me that farmers and producers have had plenty of time to restore their flocks. Or is this just another ploy to keep the price of something we need artificially high? Once again, we'll never know.
6 responses

•
17 Oct 15
I hadn't heard of the reason, but I thought egg prices had gotten ridiculous. I haven't seen any lack of eggs as well.

• Saco, Maine
17 Oct 15
@PhredWreck
Ya. One would think there would be, but no. Just another scam, if you ask me, to raise prices and keep them high. Remember the sugar spike a few years ago, and I believe there was a jump in coffee prices for awhile, too. The prices never came back down to what they had been before.

•
17 Oct 15
@Raelove
It's kind of like where a few months ago gasoline prices skyrocketed because of a refinery going down and a potential reduction of available gas.

The refinery came back up about two weeks later, and really didn't affect supplies at all...and of course, gas went down about half the amount of the increase.


• Saco, Maine
17 Oct 15
@PhredWreck
Yes, and gas is still low, but fluctuating around here. And of course, the feds have said that the low gas price is the reason that folks won't be getting a Soc. Sec. raise this year. A segue, I know, but so it goes.


• Switzerland
17 Oct 15
My grandmother grew hens for the eggs. I remember that it took 5 months for a hen to lay the first egg and during winter they did not lay every day. Those were farm hens of course. As I said the price of the eggs in Europe did not raise, but now it's the same that you mentioned in your previous post.

• Saco, Maine
17 Oct 15
Not that long ago, we could get a dozen white eggs for $1.39. The supplies have not diminished at all since then. Not sure what's going on. Fortunately, I don't use many eggs, as I don't bake much anymore and I eat just 2-3 a week.

• Moses Lake, Washington
30 Oct 15
Hens lay eggs every other day. Older gals slow down more than that and if those hens are molting, forget eggs until the feather molting is through.

• Saco, Maine
30 Oct 15
Well, it's been a year since that happened, and I see prices starting to come down in some stores. I know there's artificial inflation going on, though, too, as companies that don't think they're rich enough create an event that they use as an excuse to jack prices up. Then, when they do come down, they're never as low as they once were. I've seen it happen with coffee and sugar in the last 20 years or so. And here in Maine, that was once a big dairy state, the milk price wars rage on. I love eggs, so I'm glad the price is starting to come down.

• United States
17 Oct 15
No problem here.We have plenty.I just bought some yesterday at a price of 3.19 for large.

• Saco, Maine
17 Oct 15
@amadeo
That's what I mean. There ARE plenty. Yet, the price is still that high. I would never pay that for a dozen eggs. Not when I was paying just $1.39 at this same time last year.


• Thiruvananthapuram, India
17 Oct 15
Lol! i always enjoy to eat eggs much as we have a small farm asides our house. We have great availability of eggs. I eat almost 4-6eggs per day. We only hatch a small portion.