Fun With Milkweed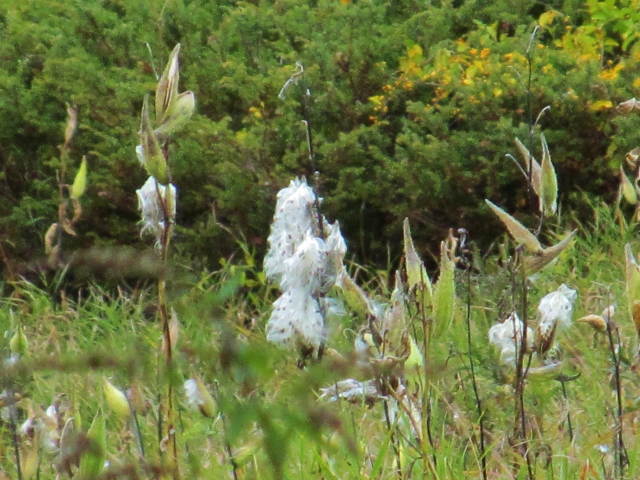 Saco, Maine
October 17, 2015 9:10am CST
When I was a kid, I was always on the lookout for interesting things in the many open fields and vacant lots we played in. I loved blowing on spent dandelion heads and watching the seeds fly away. I did the same with milkweed, and it was only years later that I was to learn why some plants are like this. It is their way of making sure that their species survives, near and far. And they are classified among those plants that disperse their seeds mainly by using the wind's energy. I also learned recently that, without milkweed, our monarch butterflies would not survive, as they depend totally on the nectar from milkweed flowers for their food and as a place to lay their eggs in the summer. Indeed, the planting of milkweed is now being encouraged to assure the survival of the butterflies. What a nice relationship that is!
10 responses

• United States
17 Oct 15
The world could do without the dandelions! At least that's what my husband says.

• Saco, Maine
17 Oct 15
LOL. I love all plants, and that's probably because I've had only one lawn to worry about. Even then, I figured there was plenty of room for all of us.

• United States
17 Oct 15
@Raelove
Dandelions are weeds...OK so Italians use the leaves in salads, but that's all they are good for!

• Saco, Maine
17 Oct 15
@AbbyGreenhill
I see dandelion greens here in Maine in at least one big supermarket I shop at. They are very high in lots of important nutrients, and I am one of those tree-hugging fools who actually loves the sight of a hillside splashed in dandelion yellow.



• Malaysia
17 Oct 15
I loved to explore different things in nature too when I was a kid. Very interesting information about milkweed and butterflies survival, thanks for sharing it with us!

• Saco, Maine
17 Oct 15
You're welcome. Even now, I still love exploring nature, and I am fortunate enough to write a weekly column about it in a local newspaper. It keeps me curious and always in a learning mode.

• Malaysia
18 Oct 15
@Raelove
That's wonderful. What you said is so true, we can actually learn more writing about a subject and it feels great when we have the opportunity to share that knowledge with others.

• Saco, Maine
18 Oct 15
@cahaya1983
I've been doing the column for almost 5 years, and haven't repeated a topic yet. Each time I think I've run out of ideas, something new comes along.


• Saco, Maine
17 Oct 15
@jaboUK
I'm sure you don't. I think they're both indigenous to North America.

• United States
2 Apr 16
When I was a teenager, my grandmother sent me with a big brown bag and a sharp knife to harvest her a bunch of milkweed. After about a half hour, I came back with a bag full, my hands were covered with the sticky milk that oozed from their stalks. She was delighted. She cut the leaves from the stalks and soaked the in the sink with some salt. Then she rinsed the leaves and put the in a big kettle with a piece of salt pork and water. It didn't take long for the leaves to become tender. She spooned out a small amount for me to sample. She added a pat of butter and a little salt and pepper. It was delicious. For many years I would harvest the tender leaves in early June and boil up a pot of them to share with my brothers and sister. I don't think they appreciated it as much as I did. Because they are not as plentiful as they once were, I haven't had any in a long time. I should harvest some seeds and plant them.

• Saco, Maine
2 Apr 16
That makes me want to try them. I will be on the lookout for them this year in my travels.

• United States
2 Apr 16
@Raelove
they are yummy. I like them more than dandelion greens, which can be bitter.

• Saco, Maine
2 Apr 16
@ElusiveButterfly
I've never managed to get the dandelions when the leaves are still small enough, so they are always bitter.


• United States
2 Apr 16
I didn't know that the monarch butterflies need milkweed to survive. As for dandelions I hate when my lawn in covered with them

• Saco, Maine
2 Apr 16
I didn't either till I researched it. I love all the natural relationships between animals, insects and plants.

• Canada
2 Apr 16
Yes, and there are different types of milkweed in various geographical regions. Each one hosts a slightly different type of butterfly, and blooms according to that butterfly's migration patterns. Amazing, isn't it? Did you know humans can also eat milkweed? Once the blooms are spent and the pods begin to grow, you can harvest the small ones and saute them in butter. They taste a little like asparagus.

• Saco, Maine
2 Apr 16
Yes, I did know that. I'd be willing to try them. With the exception of some types of meat or fish, I'll try anything in the vegetable world at least once. Thanks for the info.

• Laguna Woods, California
18 Oct 15
I know several people who have started planting milkweed in order to help the Monarch butterflies. This is such a wonderful idea!

• Saco, Maine
18 Oct 15
I think so. Whatever keeps the cycle of life going in nature, I am all for!

• United States
17 Oct 15
Yes, I have heard of the milkweed for the monarch butterfly for they becoming extinct in our part of Texas. I meant to plant some but never did. I want to redo all my flower beds and build new ones. Maybe next year I will do just that.

• Roseburg, Oregon
17 Oct 15
Nature takes care of its own. the Earth is alive with lots of wonders on her.


• United States
17 Oct 15
in our days .we used to go to the city dump to look for some antiques or copper ,etc.

• Saco, Maine
17 Oct 15
I've always loved nature, so I loved being out in it as much as I could be. Still do.