I can handle grey but………..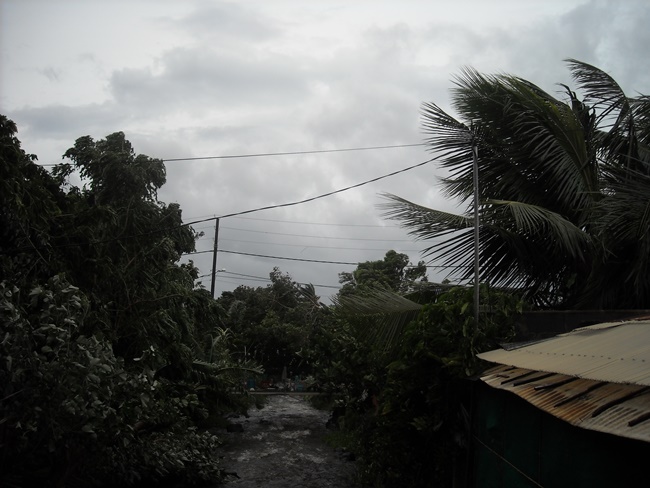 French Polynesia
October 17, 2015 2:11pm CST
I can handle grey but……….. Always our month of October brings us lots of rain because spring is here on the islands or coming soon. But this time of the year we also have a lot of southern winds blowing up from the south of us. I can handle the grey skies and the rains, but more than a few days of 50 to 70 mph winds starts to get on my nerves. I see the change in people and how nervous they become when day after day the hard winds blow up from the south. Furthermore, the winds are cold and cause the rain to blow against our homes. The first day is fine and everyone welcomes the change. But when you have over a week of hard blowing winds people start to change. Do you ever feel this way when the storms first come? The first few days it is a welcome change but when it goes on for over a week or more you start to get nervous and wish they would stop. I think this is an inner feeling we all have inside of us. I see how the strong winds effect the way people are and they aren't as friendly as they were before. How do long lasting storms and blowing winds affect you? Image source - personal images taken in Tahiti at my home
9 responses

• Alanya, Turkey
17 Oct 15
Thankfully it is rare to get such strong winds for so long in this part of the world. The grey skies, however... Well, that's almost a daily feature for 9months of the year! There is a joke that goes: " I went to Ireland for two weeks, and it only rained twice - once for 8 days, and once for six days.". You've got to laugh...


• French Polynesia
17 Oct 15
That one is very funny. The tropics it is very common this time of the year and again in April or May. In April and May it is the northern winds and in October it is the southern winds.

• Boise, Idaho
17 Oct 15
I remember times when we got a long rain here. I enjoy the spring rain but not long and flooding. Grey skies and all of that get old and when you live with depression this just isn't good for us.

• French Polynesia
18 Oct 15
I don't remember much of this type of rain. I'm sure there was days or weeks of it when I was younger. But I think this would not be for me either. I don't do well in the cold anymore. I've lived in too many warm places and a long time in the tropics now.

• Cuyahoga Falls, Ohio
17 Oct 15
Hope you stay warm and dry over there. Today was cold at 43 degrees this morning--at noon, we had a wet mix of snow/rain and expecting to have it all night long until tomorrow morning with a frost adversary. (There goes the last of my spring flowers with my annual cut flowers.)

• French Polynesia
18 Oct 15
Staying warm is not the problem. Even during the rains I still wear shorts and go barefooted. It is the winds at night that get you when they whip against your home and stuff is blown over in the night.

• Cuyahoga Falls, Ohio
18 Oct 15
@poehere
Rain isn't fun. We've got some nasty winds over here, too.

• French Polynesia
18 Oct 15
@KristenH
You are so right. Looks like he grey passed over night and the sun is shinning. Yesterday we only had grey and no winds. Today we have plenty of sun shine and winds again.


•
17 Oct 15
I hope the storms don't last too long. I personally dislike the winter in the UK, too UK and wet.

• French Polynesia
17 Oct 15
Yah that\s what's funny about the tropics. On my side of the island the storm is here but then when I talk to the family on the other side of the island it is sunny and beautiful. Funny.

•
17 Oct 15
@poehere
Oh wow, I was in San Francisco a year ago at the airport. I checked in my bag and had 3 hours to killed so we drive to the beach. At the airport it was wonderfully sunny, at the beach it was cloudy, you wouldn't think you had only drove some 8/10 miles and the weather was so different. Funny so funny how the weather can be. Going back many years ago I worked in Nottingham, UK and lived some 18 miles from work. During winter I would get snow, way too much of it, I could drive 7/8 miles into work and there would be either no snow or very little. One year we had so much snow I we were cut off and I had to send in photos to work to prove that we had snow because they didn't. This should have been a post, sorry for the length of this.

• French Polynesia
17 Oct 15
@kevin1877uk
No problem what a great story. It is same here. If I drive south of Paea and go toward Parpara it is still rain and wind like here. But if I drive a little north only 4 K then it is sunny and no wind.


• French Polynesia
18 Oct 15
I am use to them now. In Mexico certain parts where I worked and lived during the jobs we had strong winds and rain. Now here we have the same. I have grown use to them now but still in the middle of the night it's not so much fun when you hear things crashing or blowing against your home.

• Cuyahoga Falls, Ohio
18 Oct 15
Thank you Ann! One season at a time!

• French Polynesia
18 Oct 15
@KristenH
Why rush it seems the older we get the faster times flies by. When we were kids it seemed forever for time to pass. Now we are older it passes by way too fast.


• United States
25 Oct 15
I don't think we get too much of any type for storm that last for more than a day or two and if that. Usually we do get an occasional storm system in summer that lasts a bit but nothing to severe. Same with winter we will have a few days of snow and along with snow there usually is blowing and drifting of snow everywhere


• United States
25 Oct 15
@poehere
I imagine you have to keep on your toes with what weather could be headed your way. We do get tornado's around the area here from time to time but something severe is rare here. Though, this past August we had to go in our basement for the first time in a long time to ride out a possible bad storm. They saw funnel clouds but I don't think it actually became a tornado


• Delhi, India
19 Oct 15
New Delhi is a land locked area, we do not get such kind of storms, as you have mentioned in your post.

• French Polynesia
19 Oct 15
You are lucky. However, I don't mind a few now and then it's the ones that carry on for over a week with high wind that start to get me down.

• Philippines
19 Oct 15
What natural catastrophe your country has experienced which seems to be unforgettable? I am no familiar with New Delhi.

• Shingle Springs, California
17 Oct 15
The first winter after I moved to Northern California it was rain rain rain, and it definitely got tiresome, but in general we don't have long lasting storms here.

• French Polynesia
17 Oct 15
You are very lucky. Only certain parts of the year does this happen here. I guess you'd call it your season changing. Here is right after summer and just before fall and then again right winter and just before spring.

• Philippines
19 Oct 15
Lucky you are for you don't have a long-day rain. However, as the weather changes, it is weather change so to speak; nature does effect climate change. So you need to prepare, it might come your way.

• Goodfellow, Texas
18 Oct 15
Ms Ann (
@poehere
) Even in Tahiti, the rain makes for better coconuts.


• French Polynesia
18 Oct 15
Yes this is true. But the wind makes for better coconut falling on your head too. /Too much wind and especially like it has been for the last few days the coconuts blow out of the trees.