Ain't Life Grand..Sometimes!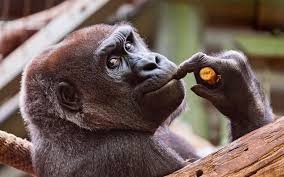 Sudbury, England
October 18, 2015 1:54pm CST
Back in 1996, in a zoo called Brookfield, something wonderful happened, connecting animals and humans, like nothing else would. A three year old toddler fell into the Gorilla enclosure, causing huge fear and panic, over the little boys situation, especially as the little one had now lost consciousness,... everyone, staff, parents and onlookers alike all fearing for the toddlers welfare. To everyone's amazement, Binti Jua, a female Gorilla, took over, guarding the little boy from the others, scooped him up in her arms and transported him, the 60ft, to an enclosure entrance, where keepers were waiting to retrieve the little boy. How wonderful is that, and how our connection with animals can sometimes be a wonderful experience and totally unexpected..... when you think of what the outcome could have been!
9 responses

• Fairfield, Texas
18 Oct 15
I love it
@bookbar
. And a lot of people think animals are stupid. NOT!

• United States
18 Oct 15
We misjudge animals and other people as well. In this case it was a misjudgement that had a wonderful and happy ending.

• United States
21 Oct 15
Well, Gorillas are like humans in many ways. They care and protect their own little ones. I know what you mean because any wild animals can be totally unpredictable. But this turned out great for that little boy. That was one caring gorilla.


• Goodfellow, Texas
19 Oct 15
Ms Jenny (
@bookbar
) - Good story. Good critter. Good post. "Good Night."



• United Kingdom
18 Oct 15
I remember it well. It was amazing to watch the poor little kid being taken care of by the gorrilla !