Typhoon Lando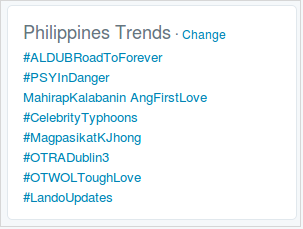 Philippines
October 18, 2015 7:15pm CST
Currently, Typhoon Lando (international name is Typhoon Koppu) is pummeling a large part of Luzon in the Philippines. Provinces have been flooded and a good number people have been moved to evacuation centers. However, there is still a significant number of people trapped in their houses. Weather forecasts show that the typhoon is still continuing to move north and that it is expected to stay longer, possibly three days, in the country. This spells bad news for those already adversely affected by the typhoon. I've gone ahead and asked friends and family members to help in securing donations for the victims of Typhoon Lando. Also, I've started coordinating here in my work place for possible stints in volunteering to help out in repacking goods to be shipped out to the victims of the typhoon. Just disturbing and sad to note that as Typhoon Lando continues to pummel the country and victimize other Filipinos, far less important topics are being talked about in social media. I mean, seriously, when we will learn to prioritize the more important things in life?
10 responses

• Preston, England
20 Oct 15
the mainstream media news outside the Philippines barely touches on it which is a disgrace - I hope as many people as possible stay safe there.


• Preston, England
25 Oct 15
@allen0187
bad news about its impact on property though lives matter most even then - hope the casualty rate was low


• Philippines
19 Oct 15
Yeah, some of the provinces have still no power and they have to deal with floods and landslides.

• French Polynesia
19 Oct 15
We are feeling some of the effects of this storm here in Tahiti. We have been having heavy winds and some rain. Today it is sun and strong winds the rain seems to have left for now.

• Philippines
19 Oct 15
Here in Manila, there is hardly any rain but the winds are strong. It the northern provinces, the both the rains and winds are strong causing floods and toppling trees and electric posts and lines.

• French Polynesia
19 Oct 15
@allen0187
We see this here on our world evening news called Soiree 3. We are shown different storms around the world and ones close to use here that effect the weather on the islands. I saw some footage of this last night.

• Philippines
22 Oct 15
The winds here are very rough though we are only under Signal number 2. I saw the aftermath of the storm in some places under Signal number 3 or 4. I will pray for their safety and strength.

• Philippines
25 Oct 15
So true
@chiwasaki
! All that flooding is creating havoc in those provinces.

• Malaysia
19 Oct 15
I feel like it was just recently that I read the tragic news about Tyhoon Haiyan. So sad to hear about this one. I hope it won't cause too much damage. Stay safe!

• Philippines
19 Oct 15
Thanks
@cahaya1983
. The typhoon didn't hit Metro Manila. Except for some really strong rains and some rain, that was it. Can't say the same for all those northern provinces. They continue to get hit and more bad news is that typhoon might stay until the weekend.

• Goodfellow, Texas
2 Nov 15
@allen0187
- The Filipinos are long-suffering at the winds and waves of typhoons. Lando is but one in a long history of the things. If I could wish a really powerful wish, it would be for their safety during what seems to be one big storm after another besetting them.


• Kolkata, India
25 Oct 15
I didn't have the faintest idea about Typhoon Lando. My heart goes out to the victims of this natural disaster.....I hope that storm is over now.

• Canada
19 Dec 15
We are often ignorant of what is happening around the world as the media focuses on what they want to share.

• United States
9 Nov 15
I realized you have not been here. I am thinking that your relief efforts are keeping you away.

• Delhi, India
26 Oct 15
We are sorry to hear about the after affects of the typhoon. It must be devastating for those who live near the coastal belt. Nature's fury sometimes affects human being very badly. Human being start taking nature for granted and suddenly nature raises its head and proves that it is more powerful than human beings. Our heartfelt sympathies for those people who got affected by it.