Back to the Future Day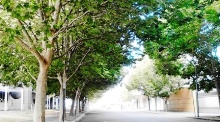 Australia
October 21, 2015 3:40am CST
I had no idea today is
that
day. Yes, I watched the first installment of the movie back then. But, I've never watched the second and third sequels. And I read it was in the second sequel that 21st of October 2015 was entered to the DeLorean Time Machine as 30 years into the future date. How neat!

In 1980s, the movie predicted how the world would be by October 21, 2015. And now that the actual date has arrived, it's interesting to see how close or far off the predictions are.

One thing I know, the movie portrayed a world with flying cars by now. And I don't think we're quite there yet, aren't we?

10 responses

• Boston, Massachusetts
21 Oct 15
They are working on flying cars and someone has invented a working hoverboard, but mostly hoverboard is being used to describe the wheeled swagway, which is a cross between a skateboard and a segway. Honestly, though, the second movie is crap. The first is brilliant and the third is charming but the middle one is really bad.



• Philippines
21 Oct 15
Oh I love that movie. I had seen all the three parts of " Back to the Future" during my younger years. You have to see all of them. Oh, how I wish our cars will fly by now hahaha.

• Preston, England
21 Oct 15
We have a rather different future than Marty and Doc saw - given my contempt for skateboards I am glad hoverboards never happened, at least yet

• New Delhi, India
21 Oct 15
Arthur I was looking forward to the hoverboards. And the pink one he steals from the little girl :D

• Preston, England
21 Oct 15
@akshat007
I tried a skateboard once and fell off in seconds. I decided they should be banished on the basis of my abject failure to instantly master the craft - same with hoverboards lol


• New Delhi, India
21 Oct 15
@arthurchappell
haha I suppose it's like ice skating. You have to get a few bum bruises before you actually start enjoying it


• Malaysia
21 Oct 15
That is pretty cool. I remember in my arts class back in primary school, whenever we were asked to draw a picture of what the "future" would look like, for some reason everyone in the class would start drawing flying cars.


• Malaysia
22 Oct 15
@sishy7
Flying buses, taxis and trains, perhaps?


• Australia
22 Oct 15
@cahaya1983
Trains!

That's something like in a Harry Potter scene or something...


• Centralia, Missouri
21 Oct 15
I would be curious to see a side by side comparison over what we have at this point and what we dont


• Calgary, Alberta
22 Oct 15
There's not much difference today than in the 80's . . o, there are a hell lot of terrorists these days!


• Green Bay, Wisconsin
22 Oct 15
No, we're a ways away from flying cars yet. I've seen all three movies and they are all good.