Naked chicks cover up for autumn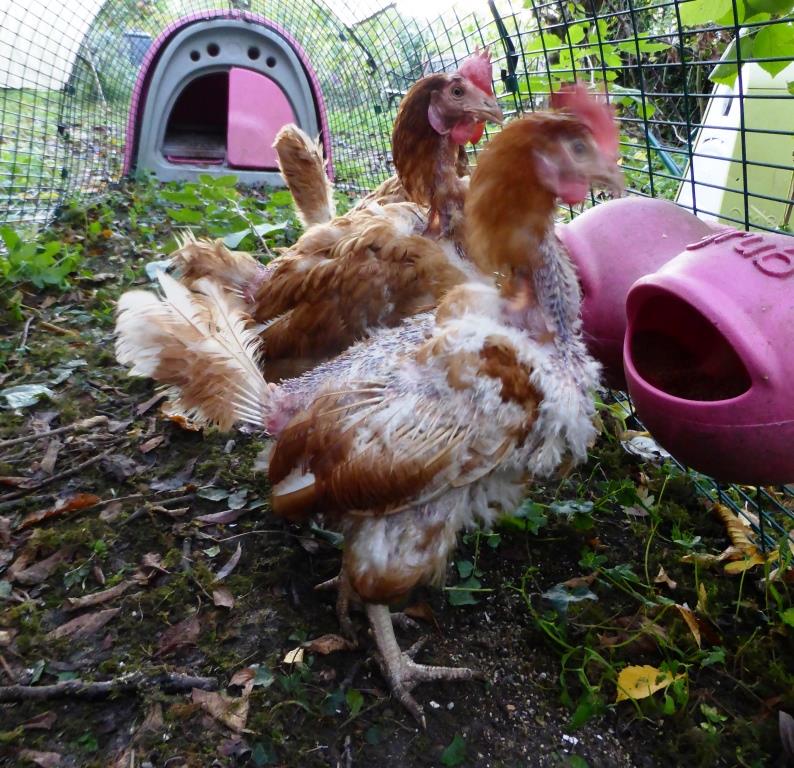 United Kingdom
October 21, 2015 5:53am CST
Ha ha I thought that would get your attention! I just wanted to show you that our 'new girls', the three ex-battery hens that we rehomed at the start of the month, have settled in very happily and are doing well, and yesterday I noticed that they are growing a whole flush of new feathers. At the moment their bodies are mostly naked but now they're sprouting new 'pin feathers' which are just coming through making them look kind of purple and spiky, but that's a step forward from their previous 'oven-ready' appearance. Hopefully they will gain a new coat of fluffy feathers in time to keep them warm once the weather gets really cold. All rights reserved. © Text and image copyright Fleur 2015.
9 responses



• Kirkwall, Scotland
21 Oct 15
So pleased you rescued the battery hens. We want to do this in the spring. We would do it sooner but we have not long moved in, and the one garden where we will let them free range is . . a dumping site for the house renovations. We plan on clearing it over winter and adding interesting fun features for them. We also need to secure the fences, there are a few roaming cats around and also my two dogs are absolutely fascinated by the 3 chickens we have in a hutch / enclosed run. Where did you get them from? Was it 'Fresh start for hens'?

• United Kingdom
21 Oct 15
I got them from the British Hen Welfare Trust You might find that dumped house renovations ARE an interesting fun feature for hens, when you pick up any of that old rubbish they will crowd around to see what creepy-crawlies and other goodies are hiding underneath! I doubt they will take any hassle from cats, they can be quite assertive, they keep our Pup in his place!

The British Hen Welfare Trust is a national charity that re-homes commercial laying hens and encourages support for British free range eggs.


• Canada
7 Nov 15
They certainly look raggedy, what happened to them?

• United Kingdom
7 Nov 15
They are 'retired' from an intensive egg-production facility. When they arrived they had no feathers at all on their bodies, only a few on their wings and tails. I don't know why; whether they pull out their own feathers out of boredom or frustration, or attack each other and pull feathers out, or they fall out from stress, or never grow at all for some reason, I just don't know. But when they allowed to live a more 'natural' life they grow feathers in the normal way.

• Canada
8 Nov 15
@Fleura
I'm glad you saved them. My daughter has free range chickens and they are so entertaining. I hate those huge blindings I drive by that hold Chickens, it must be awful inside.

• Northampton, England
21 Oct 15
The girls must think they won the jackpot.

• Northampton, England
21 Oct 15


• United States
21 Oct 15
Oh they are darlin. Don't worry in a week or so they will look all nice and fluffy. Glad that you rescued them.



• Preston, England
21 Oct 15
great title lol! Didn't know chickens changed feathers to suit the seasons. interesting.