Cinnamon Raisin Bagel Bread Pudding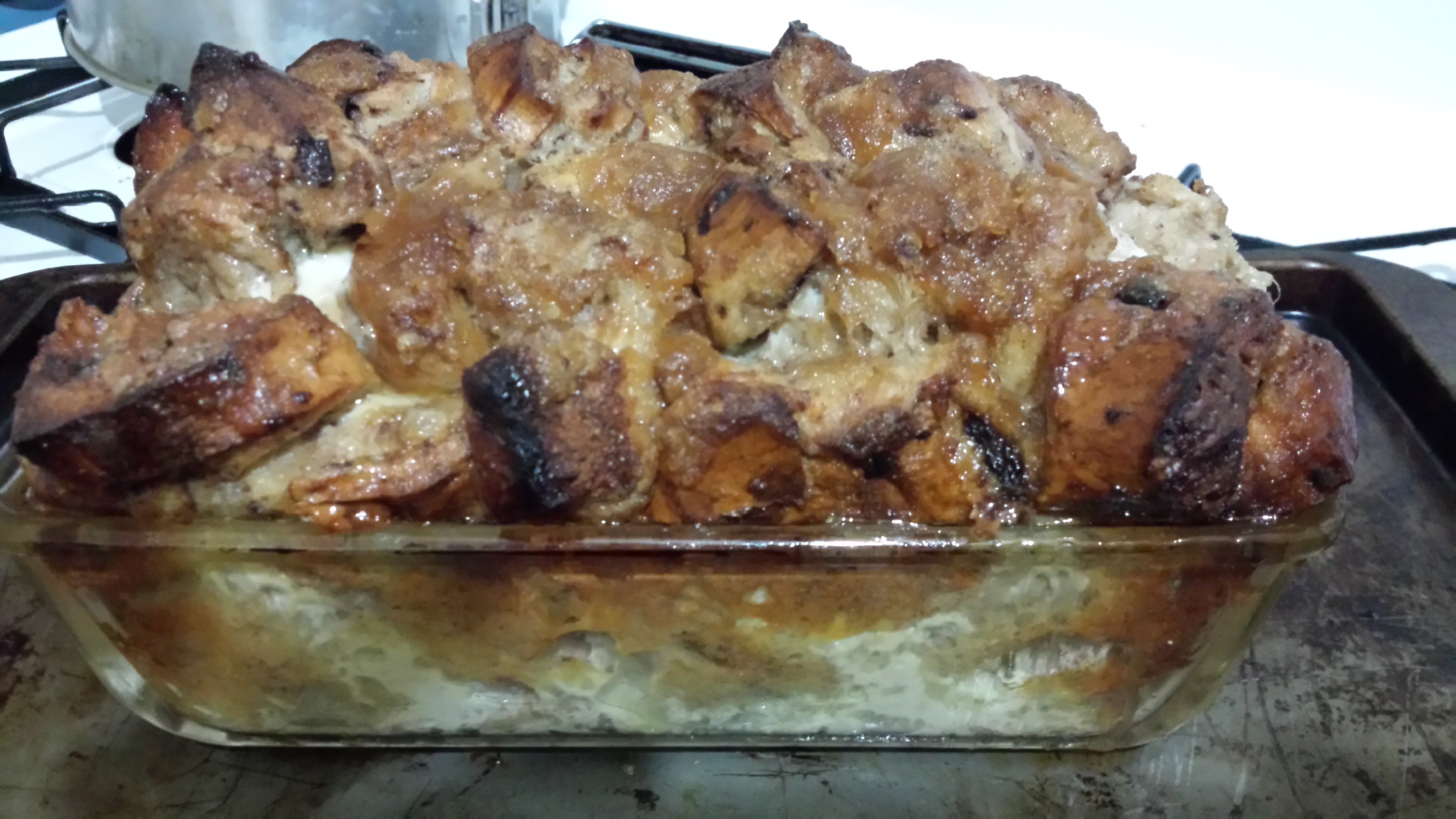 Gloucester City, New Jersey
October 23, 2015 1:05pm CST
Although I am going to tell you how I made this, this isn't a recipe post. It's a "I did it myself" post because I have never made bread pudding, let alone by using bagels, but I did it!! I had bought a bag of six bagels, but I had to admit that they weren't anything like the fresh from the bakery bagels I'd recently had. Sure, they didn't go bad as quickly as the fresh bagels, but they also didn't have the same toastabilty or satisfaction as the fresh bagels. Still, I didn't want to waste the three I had left. And, I had been craving bread pudding for a while. So, I checked out a few online recipes to see who had made it using bagels. I found the recipe I ended up using. It called for four bagels, but I had three, so had to cut the recipe by 1/4 on the ingredients. I had EXACTLY the amount of milk left in the fridge I needed plus three eggs. Instead of vanilla extract, I used DaVinci French Vanilla syrup - for two reasons. One was it was easy to grab since I use it in my coffee and the other was that there was no sugar in this recipe, so a little sweetness wasn't going to hurt it any. I also added cinnamon to the mix. I cut up the six pre-sliced bagels into chunks and let them sit to dry out before pouring the egg/milk mixture over them. I let that all sit to soak. I then poured it all into my glass Pyrex loaf dish (good thing it was only three bagels because it JUST fit) that I had sprayed baking spray in. I had the oven already on and melted a blend of butter and brown sugar in the microwave which I poured over the top of the bread pudding. I put the loaf dish onto a cookie sheet and placed it all into the oven for 50 minutes. As you can see by the photo, it turned out beautifully. You can see how much it rose above the top of the dish. Needless to say, I have had it for breakfast and lunch. Really, is this much different than French Toast? I didn't think so, either!!
5 responses

• United States
23 Oct 15
If I had a place to buy bagels where we live I wouldn't make pudding out of them. We are Yankee transplants living in the south and there are very few bagel shops (good ones) anywhere.

• United States
23 Oct 15
@jerzgirl
Those plastic bag bagels aren't the best

• Gloucester City, New Jersey
24 Oct 15
@AbbyGreenhill
Exactly! After three, I'd had enough - yet, didn't want to waste my money. Thus - BREAD PUDDING!! It worked out well. LOL



• Gloucester City, New Jersey
20 Jul 17
It was good. Keep in mind that the bagel is tougher than regular bread, so even with milk, it isn't a soft pudding. Although, I think if I had allowed it to sit prior to baking with a bit more liquid, it might have been softer. It was still good. If you like firm bread pudding, this is how to get it.

• Gloucester City, New Jersey
24 Jul 17
@HazySue
This wasn't too sweet, which was fine by me. I'm diabetic and shouldn't eat too much sugar anyway. But, with the milk and the eggs, the sugar has a harder time processing, so the absorption is a bit slower. I enjoyed it. I think those French toast casseroles are made in a similar fashion, but with more egg and less sugar (other than syrup, although you can use sugar free syrup). Regardless, I enjoyed it.


• India
5 Mar 17
Whenever there is left over bread the first thing that comes to mind is to make bread pudding. I am good at it.

• Gloucester City, New Jersey
6 Mar 17
I had never made any bread pudding before. My mother used to and I, as a child, foolishly refused to try it. But, as an adult, I have discovered how much I really like it. But, I had never tried making it. With so many leftover bagels, I thought there must be a way to use them up. I looked it up and found that others had done the same thing - used their bagels for pudding. PERFECT!! I like my bread pudding with cinnamon and raisins anyway.

• Canada
4 Mar 17
Yours almost looks crunchy?? I wonder if mom used too much white bread. Her's was awful!! Everyone seems to like it except me!

• Gloucester City, New Jersey
6 Mar 17
Bagels are thick and baked anything can get crunchy on top, so the two things together probably made the top harder than bread would normally be. Maybe you should compare recipes with how your mother makes hers and see if you can tell what about it doesn't meet your tastes. Then try a small batch of your own. If you don't like mushy pudding, then a tougher bread, like bagels, might be what you want.

• Petaluma, California
7 Nov 15