Have you been to a botanical garden ?

India
November 23, 2006 11:48pm CST
Botanical garden usually lists plants including flowering plants and trees with scientific name, local name, popular name with scientific data. In Bangalore, there is a garden called Lalbagh on some 400 acres of land which is on tourist map of the city, has lovely trees and plants. Kruschev, Queen Elizabeth and many internaitonal dignatories have planted trees/plants here in this garden. I had also seen wonderful botanical garden in Katmandu, Nepal. How you many of you have seen botanical garden and what is interesting about the garden?
6 responses

• Canada
26 Nov 06
We have a few in my city in Canada. We have one that specializes in Chinese plants, one that specializes in Japanese ones, an enclosed dome that contains a variety of tropical plants and one that has specimens from many countries. We also have lots of gardens with domestic plants. I'd love to see some of the gardens you've been to. My sister is in Katmandu right now, so I'm looking forward to seeing her pictures.

• India
26 Nov 06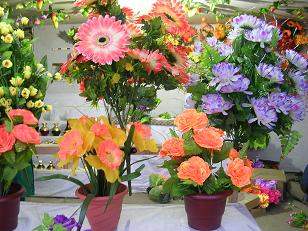 Inform her to visit this botanical garden on a high mountain, approximately 2 hours drive from Katmandu,Nepal. Taxis may take approximately USD50 to and fro. Thank you very much for your interesting response about the botanical gardens. It would have been very interesting if you had uploaded some pictures of the garden.


• India
26 Nov 06
There is one in Bangalore and another I think in Lucknow. The famous one in Ooty. Take your girl friend/fiance/would be there. You will definitely enjoy. Ooty's botanical garden has large number of hilly-region flowers and it looks so cute and grand, you feel like staying there for hours, watching it.


• India
6 Feb 07
Only difference is too much traffic and you see only heads of human beings everywhere with 2 wheelers, cars, buses, lorries etc. Pollution is at its peak. But gardens are still well maintained and the civic authorities keep increasing the gardens in newer areas.

• India
6 Feb 07
i have seen Botanical Gardens - Kolkata when i was there . so huge it is . we were visitied their from college because i have a botany in B.Sc. some knowledge about Botanical Gardens:- Indian Botanical Gardens, originally found in 1786 along the west bank of Hoogly, containing about 12,000 living plants and over two and half million dried out plant specimens in the herbarium collected from all over the world, is the largest of its kind in India. The gardens' prime attraction is the old banyan tree, claimed to have the second largest canopy in the world. It covers an area of ground nearly 400m in circumference and continues to flourish despite having its central trunk removed in 1925 because of fungus damage. Other notable botanical specimens are the double coconut tree from Sicily, the branching palm tree from Brazil, the multicoloured bamboo trees, the mad tree, various cacti and orchids. There is a huge lake, with a large variety of aquatic plants, including the rare Victoria Amazonica.

• India
6 Feb 07
I had been to a botanical garden on a hill top in Nepal, some 50 kms from Kathmandu, Nepal. It is very well maintained and there are exotic varieties of plants of Himalayas well preserved and maintained.

• United States
20 May 07
Yes I have been to a botanical garden in Kolkata where world's largest bunyan tree is situated. Sorry I have started similar discussion and then found your discussion.