Chicken Salad Variations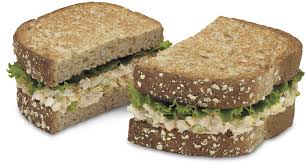 Saco, Maine
October 25, 2015 10:17am CST
I've always been a sandwich lover. There is just something about a tasty filling and other ingredients piled between two slices of bread that is wonderfully appealing. Sandwiches are also very portable, so that you can make up a few ahead of time and have a meal to take along if you're in a hurry and can't eat out. I like fillings off all types, from sliced meats to egg salad to canned tuna and chicken. I always try to keep canned chicken and tuna on hand for that reason, as they're quick to make into nutritious and delicious fillings. Whereas I am trying to use up as much of my stored food as I can before I move, I decided to use the last can of white chicken breast meat that I had today. I love chicken salad, either as a filling or on its own. And I try to vary it as much as I can. I've learned that there is a surprising array of add-ins that you can use, not the least of which are fruit, nuts and vegetables. I normally use mayonnaise to bind the ingredients together, but you can also use a splash of olive oil for extra flavor. I've used chopped pecans, dried cranberries, sliced grapes and even diced apples in my chicken salads. And it all works! Lacking those ingredients today, I added some diced onion and celery, some sunflower seeds, and some dried parsley. With those extra add-ins, I was able to turn one large can of chicken into enough filling for three bulkie roll sandwiches. I wrapped them tightly in waxed paper, and I'll have a quick lunch meal for the next three days. You can use any type of nuts, as long as they're finely chopped. You can use shredded lettuce, shredded baby spinach or kale leaves, or use the leaves as a base for your sandwich filling. I've added chopped black and green olives, green and red bell pepper, and chopped sweet pickles to my chicken salads. There is no end to the possibilities, and it's fun to experiment. Photo Credit: Wikimedia Commons
7 responses

• Alicante, Spain
25 Oct 15
yes I love sandwiches... and experimenting with fillings... ssoooo good ...



• Saco, Maine
25 Oct 15
Oh so do I. And if want a change from bread, I'll buy some wraps or pitas. I prefer the wraps, as I find pitas don't always hold together too well. Tortillas work well, too, as long you fry them lightly before using to eliminate that raw taste.


• Alicante, Spain
25 Oct 15
@Raelove
O M G ... yes to all the above.... I'm getting hungry now....


• Saco, Maine
25 Oct 15
@sueznewz2
LOL. I grew up going to weddings where they served those little finger rolls with the plain thick pasty chicken salad filling. I loved it then, as I didn't know any better!

Since then, I've liked to spruce it up.



• Malaysia
25 Oct 15
I love sandwiches a lot! My favorite is tuna and egg, of course with cheese and mayonnaise. Sprinkling a little bit of ground pepper makes it nicer too.

Not a big fan of chicken sandwich though.

• Saco, Maine
25 Oct 15
Mmmm, tuna, egg and cheese. OK, I'm game!

• Malaysia
25 Oct 15
@gudheart
Wow, apple and cheese sandwich is new to me. Sounds like a flavor I wouldn't mind trying!


• United States
26 Oct 15
My favorite chicken salad has pecans, grapes, mayo, celery, and pickles. Yumm!


• Saco, Maine
26 Oct 15
@1creekgirl
That would work!


• Canada
25 Oct 15
You'll have a few delicious sandwiches to look forward to this week. I like varying ingredients, too.

• Saco, Maine
25 Oct 15
@Sheilamarie78
Yes, it's going to be a busy week, so they'll be nice to sit down to in between all the things I have to do.

• United Kingdom
25 Oct 15
Thats a great idea. I also use those types of fruit and nuts in our salads too it makes it more interesting and very tasty!

• Saco, Maine
25 Oct 15
Yes it does, Gary, and more nutritious, too!


• Saco, Maine
25 Oct 15
@gudheart
It adds a nice little crunchy texture to it, as long as the nuts are chopped finely enough. I love them in all kinds of salads.