Why I Get No Comment Button?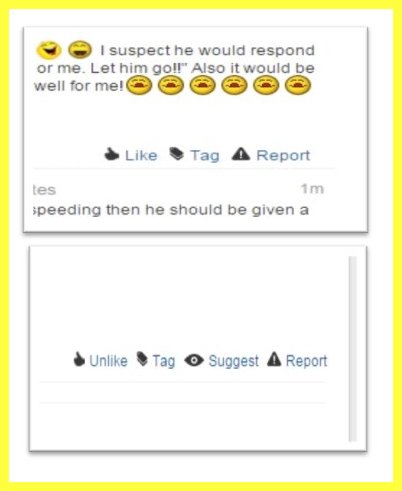 Philippines
October 25, 2015 7:05pm CST
I am on the way to replying those comments/interactions to my fellow users here and especially to my helpful followers, when I suddenly come across with a post which made me laugh. I try to react by leaving a comment there. To my dismay, I couldn't find any comment button. This is the first that I have met this kind of problem. I am thinking that this could only be a system error. So I check some of the post of my friends. Why? What's wrong? Did that particular myLot user has blocked me? The page of @Tita417 has deprived me of this. I couldn't communicate with her and I found no problem with her. Please help me on this. Thank you.
5 responses

• Cagayan De Oro, Philippines
26 Oct 15
with all apologies to you. I press the wrong button. I am truly sorry for this . The comment button is my fault truly ask your forgiveness.I was waiting for the comment. if I did not see this post I won't know that I made a wrong press. Please my deepest apologies



• Philippines
26 Oct 15
That is alright. I understand. Don't bother anymore. Accident do really happen when no one is expecting it.

• Garden Grove, California
26 Oct 15
you mean response button its still there that what i hit to comment wikth
@dodoazo
did that help?

• Philippines
26 Oct 15
On that particular page I mentioned couldn't access by me. I don't know if she has hated me or not. Try to check
@Tita417
page on "The Pope" and "Whale" and everything under her page, I couldn't leave a comment. Only available is "like".

• Garden Grove, California
26 Oct 15
@dodoazo
i had no trouble do you think she has blocked you for some reason thats so sad Youo seem l ike a very likeable person to me. I seldom block anyonme here.


• United States
26 Oct 15
I don't know. That's so strange. I didnt even know you could block someone on here!

• Philippines
26 Oct 15
There is a facility for that here to block a user if you're not in good terms with each other. Anyway, it is not a good practice. We are here to reciprocate, to help one another for us to earn, not to hate and condemn each other.

•
26 Oct 15
That is because they have you blocked.

• Philippines
26 Oct 15
I am really innocent of such thing. I wonder why she did that to me. Anyway she communicated back that it was an accident. I understand it.

• Philippines
26 Oct 15
Maybe you were logged out . I experienced that also and noticed i was logged out . This site automatically logged out when you don't use it for a few minutes . That i observed .

• Philippines
26 Oct 15
That is a different system error probably. But I have not experienced that. Mine is different. Anyway, It has already been resolved and I am now communicating with her.