How To Drive Robbers Away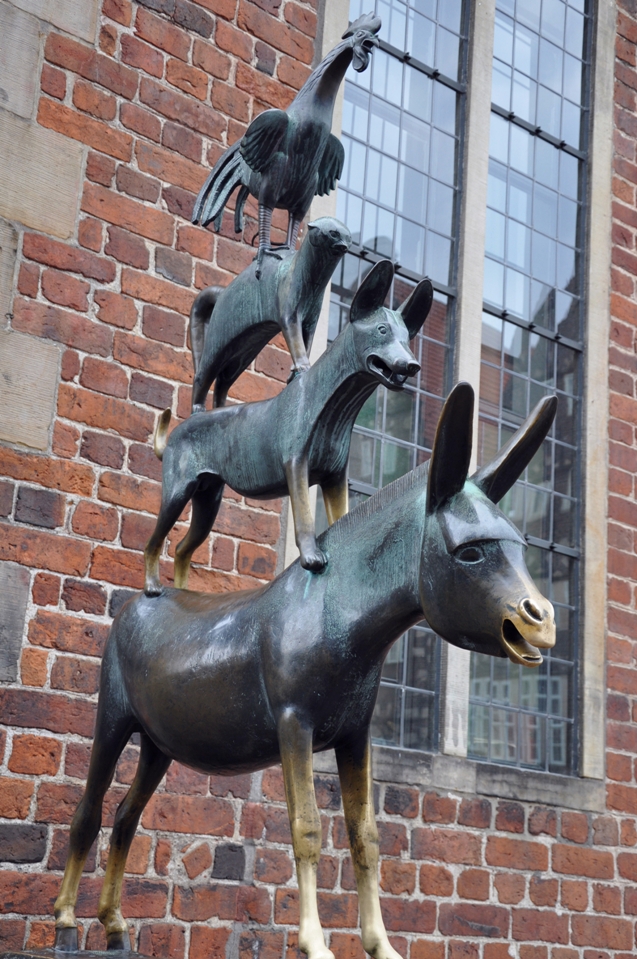 Uzbekistan
October 28, 2015 12:20pm CST
The story in a nutshell: A donkey, a hound, a cat and a rooster have become old and weak and can't serve their masters any more who want to put them to death to save food. They leave their respective homes and go to Bremen to work as town musicians there. On their way they pass a cottage in which a gang of robbers is feasting. The tired and hungry animals think of a way to get in. They form a pyramid in front of the window, the donkey at the bottom, the rooster on the top, and start performing their music. The donkey brays, the hound barks, the cat meows, and the rooster crows. When the robbers hear the racket, they flee head over heels. Later at night when the animals are asleep and the cottage is dark one of the robbers comes back to see if the intruders have left. He stumbles over the animals which scratch, kick and bite him, he runs away for his life. The animals stay in the cottage and give up their plan to go to Bremen. Many fairy tales have anthropomorphised animals as protagonists. The animals usually are not real animals but transmogrified human beings waiting to get their human form back (The Frog Prince). The animals in The Bremen Town Musicians, however, remain real animals throughout the story. They have human characteristics and behave just like human beings so that a transformation is redundant, the readers can identify with them the way they are. The plot of The Bremen Town Musicians - a company of poor creatures travels to a faraway place and overcomes obstacles along the way with courage and ingenuity - is very old, it's said to have come to Europe from India already BC. If the fairy tale is interpreted from a political point of view, it's still relevant and will remain so as long as injustice in the treatment of labourers exists. Although the animals have toiled faithfully under hard conditions for their masters, they can't expect charity but have to fear death when they're tired and worn out at the end of their lives. They escape without having a plan. "You can find something better than death everywhere" keeps them going. Nobody is too old to venture something new! They find strength in unity, they brighten each others' mood and frighten off the robbers, symbols of human wickedness. In the cottage they still their hunger and also find a new appetite for life. They never make it to Bremen. But why did they want to go to Bremen anyway, a town in the north of Germany? Researchers of fairy tales claim that the Brothers Grimm were good friends with the Mayor of Bremen and that the animals' plan to go to this town was a gesture of appreciation for him. Whatever, nowadays the tourist industry of Bremen is very happy about this, the bronze monument of the four animals beside the town hall has become the emblem of Bremen which you can find on innumerable tourist products.
10 responses




• United Kingdom
28 Oct 15
An enthralling story for children!

• United States
1 Nov 15
I enjoyed reading that story when I was young.

• Manila, Philippines
30 Oct 15
Long and beautiful story. It reminds me the stories I heard from my ancestors when I was a child.

• Manchester, England
29 Oct 15
I remember hearing this story as a child in school. I recall being quite upset that people would kill animals because they couldn't work any more. The political interpretation passed me by. I wasn't a very political child!!!!


• Ireland
28 Oct 15
@Maluse
I loved this story when I was a child, although I also found it quite disturbing. I can still hear my parents reading it to me and I remember well the pictures in the book.

• Roseburg, Oregon
3 Nov 15
I think I heard that story when I was a kid.