Isn't it much more inconvenient to do the laundry outside?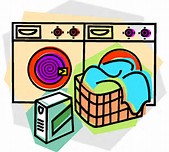 Guangzhou, China
November 1, 2015 9:47pm CST
I think the different culture leads to the different habbits. Here a washing machine is necessary and we like to do the laundry at home. So we don't understand why the foreigners like to do it outside. We see this scene so often from TV. They use a big basket and carry their clothes to the laundry store and then wait for there until the clothes are clean and dry. I doubt whether this is troublesome?
5 responses


• United States
2 Nov 15
Laundromats are found mostly in the big cites, in urban areas. Most landlords in those areas do not allow a washing machine or dryer in the apartments.

• Guangzhou, China
2 Nov 15
@cupkitties
It is strange that the washing machines and dryers are not allowed. As I think they are just basic and common electrical appliances.


• United States
2 Nov 15
I would gladly do my wash at home. In fact I have a little portable machine, but I cannot as it would create noise here, and neighbors complain to office. So now I have to do it at laundry room


• United States
2 Nov 15
@youless
Mine is..it is hard to balance on this floor for the spin cycle.

• Newton, North Carolina
18 Nov 15
Mine is real loud too, I can't wash at night. Luckily, neighbors aren't real close.

• Philippines
2 Nov 15
Maybe it is more convenient and cheaper and less effort on their part , that's why they prefer to have it on those shops .

• Newton, North Carolina
18 Nov 15
I would not like this. I love just going to the room outside of my kitchen and there's my washer and dryer!

• United States
2 Nov 15
As far as television or movies is concerned, they probably use the laundromats as a plot device. That's why it seems like everybody is using them, but that's not really the case.