Which country did you have a travel abroad at the first time?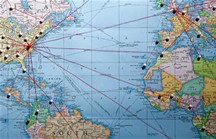 Guangzhou, China
November 2, 2015 10:41pm CST
I am curious when you travelled abroad at the first time, which country did you choose? I chose Thailand. First, the visa is easy to apply. Second, it is a beautiful country and I like its scenery, beaches and so on. Third, it is not far away from my city. It took me about no more than 4 hours going there by plane. So the journey is comfortable.
10 responses

• Gloucester City, New Jersey
7 Nov 15
Hi
@youless
! It's been a long time since I saw you online - not since myLot stopped paying before. My first time to go to another country was when I was 9 years old and we moved to Venezuela because of my father's job. I loved it there!


• Malaysia
10 Nov 15
i wish i had go to Mecca for my first time abroad but i still cant afford it back then. It just happen that Thailand was the 1st country i visited abroad. And until now i still love to visit Thailand since there are so many places i want to go and it always fun even visiting same place i already go. I went to Phi Phi Island for 4 times and never get bored with it. Thailand are heaven for good food, beautiful beaches, shopping paradise, good massage, full with culture and friendly people. On top of all, most of things cheap there :)

• Malaysia
12 Nov 15

Im glad the countries nearby has so many interesting good places to visit, so there are plenty of options if we want a shorter and more economical tours. Travel abroad give more of tourist feeling compared to domestic travel

but you are right! Malaysia has many beautiful beaches too and i haven't get to visit all of it yet, some has no direct flight so its gonna take long hours of driving.

• India
7 Nov 15
If Nepal could be called a foreign country although it is close to India, that was the first I had visited. My office had sent me there on work. But our holiday was to Singapore. After that I never looked back having covered many countries.

• India
7 Nov 15


• Singapore
7 Nov 15
If I were you, I will travel to different parts of China first. You hardly can find a country to compete with China in term of terrains, scenery, culture, and food. I think when you combine all the elements, you will agree that China is still the best place in the world. The only drawback is the lack of clean toilets in some parts of the country.

• Guangzhou, China
12 Nov 15
In fact I have travelled many places in China. But of course I haven't been to all of them because it is so large. Today it is very crowded during the holiday season, and the extrance tickets are quite expensive. And the plane tickets are rather expensive during holiday, too. This is why I lose my interest and I like to see the outside world now.

•
6 Nov 15
The first place I went to abroad was France when I was a kid.

• Pensacola, Florida
6 Nov 15
I had to think about this question since I visited so many countries in Europe. The first country that I ever visited outside of my home country Germany was Austria. It was a school trip.

• Mumbai, India
3 Nov 15
My first journey was to the Maldives. It is very near to India, but very different. I have been to Thailand also.

• Roseburg, Oregon
3 Nov 15
My father was in the service. I first went to Japan right after I was born.