I LOVE CATS

Philippines
November 4, 2015 3:03am CST
Since I was a little kid, cats have made me love them so much. I too, don't know why and how I came to love them. Though I know some things that I like about them such as they are really cute, furry cute, also they are smart, strong and brave. But, I don't think those are the reasons why I love them to death. I do love animals but what I feel for cats is truly different. Cat do a lot of weirdest things. They are so adorable and funny. Cats love mouses, cats love boxes, cats love ribbons, meats and lizards. Cats love running, playing, hiding. Cats love cuddles and so much more. And me? I love CATS.
8 responses

•
4 Nov 15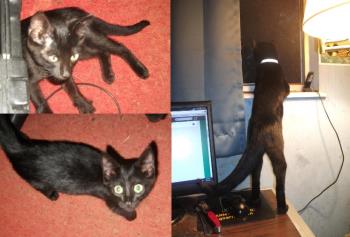 And cats love to scream
MEOW!!!
in your face at 2 AM for no fact other than that they think you've been asleep too long.

But I still love him...and he's growing like a weed.


• Guangzhou, China
5 Nov 15
Cats are my favorite animals. I used to have cats when I was a child. As at that time we lived in an old house and there would be mice. Cats could catch them. Cats are adorable. And they are not like dogs which will please you on purpose. Cats have their own characters and they are too proud to please you. I wish to have a cat now but my dad doesn't allow it. Since he said it was not suitable to have a cat in an apartment.


• Kolkata, India
5 Nov 15
The feline has always been a source of mystery to me. When they look at me as I pass the streets, I feel like they are probing or more accurately, X-raying me instantly haha

But I do love their agility and I think they are quite cute and adorable.

•
4 Nov 15
I love cats as well. Always my favorite animal.

• Dallas, Texas
4 Nov 15
I had a cat when I was 2 years old. I had a cat when I was 17. I also had a cat at age 50. I loved each and every one. Meow.

• United States
4 Nov 15
Yes the internet loves cats.

• India
24 Feb
I too love cats very much. It is fun to see them playing. If there are cats at home,there will be no rats. If rats come also, cats will kill them.Cats look innocent.