Old Fashioned Eggnog vs Gluten Free Eggnog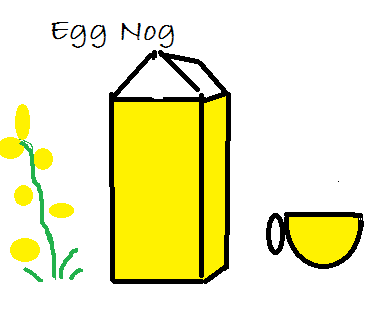 Duncan, Arizona
November 5, 2015 2:37am CST
Today I bought my first quart of eggnog, to kick off the holiday season. I was inspired by advertising for custard eggnog,pumpkin spice and eggnog lattes, and eggnog milkshakes being advertised, at local fast food places. I enjoy traditional eggnog. The kind made out of eggs, whipping cream, powdered sugar,vanilla and ground nutmeg. I used to make a version of it I found in an old recipe book years ago, it was tasty, but it did not have the same creamy texture of today's store bought eggnog. I like to mix my glass half and half. Half milk and half eggnog. I have been seeing some recipes for gluten free eggnog, and gluten free eggnog cupcakes that look pretty delectable. I just might give one a try this holiday season.Which do you prefer, the real deal or gluten free?
6 responses


• Duncan, Arizona
6 Nov 15
I would qualify being an elderly lady, but don't know about the kaffeelatsch???

• Cambridge, England
6 Nov 15
@MALUSE
I love the word 'klatsch'. (Itch harbour kin'a Doych, as you can tell from my dreadful accent!). It reminds me of the English words 'clutch', 'clash' and 'clatter'. I see that it is translated as 'gossip' but 'clutch' is used as a collective noun for eggs and old hens, 'clash' is often used to describe the furious working of knitting needles and 'clatter' might represent the noise of cups and saucers.

• Northampton, England
5 Nov 15
I can't imagine why there would be gluten in an egg nog to start with.

• Duncan, Arizona
6 Nov 15
Recipes call for by product eggs in carton not real eggs

• Northampton, England
6 Nov 15

• Duncan, Arizona
6 Nov 15
really did not know that I have had very little experience with gluten free anything
@boiboing


• Green Bay, Wisconsin
5 Nov 15
I don't like eggnog, but my whole family loves it. Somehow I can't picture gluten free eggnog as tasting all that great.

• Duncan, Arizona
6 Nov 15
Yeah, maybe the gluten free eggnog cupcakes, might be fun to try.


• Duncan, Arizona
5 Nov 15
Yes a lot of people add vanilla pudding to thicken the texture and make it creamier.

• Cambridge, England
5 Nov 15
@sherryeb
I imagine that 'vanilla pudding' is what we British often refer to as custard - the commercial ready-made custard is usually made just with cornstarch, milk, sugar, vanilla flavouring and colour.

• Duncan, Arizona
6 Nov 15
custard here is similar to vanilla pudding
@owlwings

•
6 Nov 15
I prefer the real deal eggnog as I've not tried the gluten one. I like the homemade one which my mom makes. I've also bought at the store fresh eggnog in the diary carton and drink it plain or I add a bit of rum or vodka to it for a tasty cocktail. Another good eggnog is the Pennsylvania Dutch eggnog that has blended whiskey and cream.


• Duncan, Arizona
6 Nov 15
Yes, I have added rum extract and rum liquor to eggnog it kind of enhances the flavor. I have not seen the Pennsylvania Dutch brand, I will have to look out for it. Thank you for sharing.

• United States
5 Nov 15
Even if I could eat/drink dairy - that would be the one product you would never find in my house! Just thinking, not pleasant.