Fun with your closest friend.....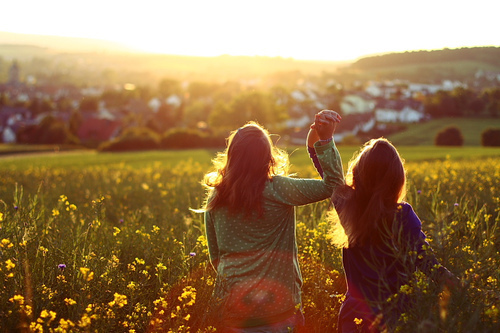 Kolkata, India
November 8, 2015 8:00am CST
To me, the closest friend one could have is someone from their own family. Like for me, it's my sister. I always have an awesome time with her sharing my stories and thoughts, and she does the same. We support and understand each other in situations where others might have misunderstood. Siblings share a thing called telepathy I believe. You might have something on your mind, and suddenly she speaks it first. A connection which is special, rare and everlasting. Do you have a family member who is a very close friend and confidant too? We always have each other's back no matter what, because after all, that's what sisters are there for.

6 responses

• Indonesia
9 Nov 15
Yes, you are right and great, the closest friend is one in your own family. He/she will know all of you as well as love you with their deepest heart. They will leave you, moreover when you are in bad situation. They will help you always. When I was single I do not care on my family member, because I prefer to have closest friend from my school mates. In fact, it is wrong. Fortunately, my family member knows that I do not have bad tendency with them. Now, my closest friend is my hubby and my relatives...

• Kolkata, India
9 Nov 15
that's so good to hear! You are right, when we are younger we tend to remain with outside friends and believe that they are the best, and our family doesn't understand us. But if we let them, our family becomes our greatest support, friend and well wisher. They know us inside out, and can tell what is good or bad for us. So can we, for them.

• Indonesia
9 Nov 15
@ria1606roy
Yes, you are right. I think it is part of learning process of life. When we young, we never know that family is the best people that will care for us. After we get married, everything was change, outside friend to be far with us and family to be with us. Yes, it is life...will be change and change always...

• Kolkata, India
9 Nov 15
@srisahara
I'm glad that you are so happy now.....it is a gradual process and learning and growing up, and we should cherish those special relations we are fortunate to have in our lives.


• Kolkata, India
8 Nov 15
That proves telepathy exists!

I have read some posts regarding your brother, and I know from that that he is a very special person. You both are very lucky to have each other.

• Louisville, Kentucky
9 Nov 15
@ria1606roy
That is very sweet of you to say. I do think we are very blessed to have each other in our lives.


• Kolkata, India
9 Nov 15
that's awesome! I have a lot of cousins and when we get together we have so much fun and bond very close!

• Northampton, England
8 Nov 15
My sister and I get on better now than we ever did as children.

• Kolkata, India
8 Nov 15
When we were even smaller, we had difficulty getting along and always ended up fighting. Now I think we understand each other better and can share things easily. It's good to know you are getting on well with your sister.


• Kolkata, India
8 Nov 15
Yes of course they are. I'm glad you have your loving siblings by your side.

• United States
8 Nov 15
For a long time me and my brother didn't get along but today we are much closer. I never had a sister but I had always wanted to.

• Kolkata, India
8 Nov 15
Well, you have a brother and that's equally fun and great! Siblings should be close and help each other out whenever necessary. Also they are great companions. I'm glad you are on good terms with your brother.