Wellies And Walking Stix !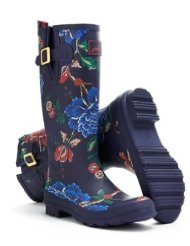 Sudbury, England
November 8, 2015 9:21am CST
No longer the province of the elderly or infirm, Wellies and Walking Stix' are now the must have addition to the 'trendies' wardrobe. Wellies, or 'Gumboots' as my dad used to call them, are no longer boring black,blue or green and sensible, mud protectors, they have grown into the domain of 'the Chelsea Set' with their bright colours,patterns, stripes and designer labels, along with matching/co-ordinating Walking Stix. For Dogs, their owners don't need to be 'sniffed' out, they are instantly, visually recognisable,in some very expensive Wellies and 'Walkie Stix', parading in town and country alike. A new lease of life has been afforded, to utility items, just as Doc Marten did for hob-nailed boots!
10 responses


• Sudbury, England
8 Nov 15
@Inlemay
Like all good girl guides...Be Prepared... good for them...puddle paddling doesn't necessarily require water, a sense of humour will do



• Sudbury, England
8 Nov 15
@LadyDuck
Extremely...even when the weather doesn't require them and often in towns/cities, where at one time, you never saw a 'wellied foot'....



• Sudbury, England
8 Nov 15
Check out Amazon's' fahion walking sticks', they have many that at least co-ordinate...

• Boise, Idaho
14 Nov 15
These are actually quite cute.

• Sudbury, England
15 Nov 15
@celticeagle
Cute and everywhere over here



• Sudbury, England
13 Nov 15
@MALUSE
... Yep! you can get them on Amazon, haha!... along with doggy socks, leggings and everything else for your pooch


• Ft. Lauderdale, Florida
9 Nov 15
Never heard of them but then I wear flip-flops!


• United States
8 Nov 15
Very fashionable. I think I need to go buy some right now!

• Bunbury, Australia
9 Nov 15
They come in all sorts of patterns now, don't they? You'd probably be battling to buy black ones now.

• United Kingdom
9 Nov 15
I will stick to my boring green wellies thank you very much. My wife has a fluorescent pink pair and my daughter and grand daughter have matching leopard print wellies.!