How to fix cache problems in Windows 10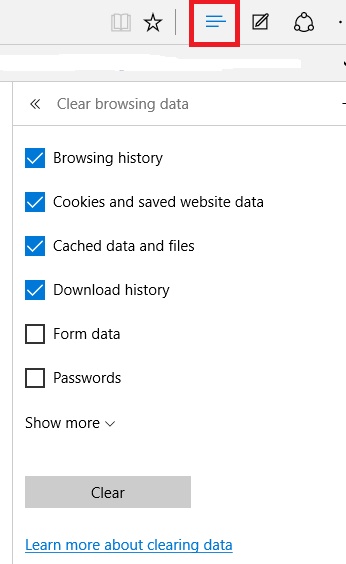 French Polynesia
November 9, 2015 11:51am CST
In the new Windows 10, Microsoft has a new Internet browser called Edge. When you first start using the new browser it is very fast and displays your web pages quickly. However after a few months the new browser cache fills up and now it takes forever to open a new web page. It seems like your computer has frozen or blocked. There is a simple way to fix this problem. 1. Open Microsoft Edge from your task bar at the bottom of your screen. 2. Once the Internet browser is open look at the first line at the top of your page. On the right side of this line you will see an image of a book, a star, 3 horizontal lines, a paper with a pen, and a round circle that has 3 smaller round circles on the line. 3. Select the 3 horizontal lines to open a drop down menu. This menu will open on the right side of your computer screen. 4. At the top of the menu you will see a star, a series of horizontal lines, an image that has a circle running around to the left and what looks like hands of a clock in the middle. Finally the last image is an arrow pointing downward with a line under it. 5. Select the image of the clock. 6. This will open your history page. 7. In blue letter you will see Clear all history 8. Select this by placing your mouse on the letter and clicking on this. 9. Your browsing data screen will not drop down. 10. Put a check by the items you wish to clean. It is recommended to clear your Browser history Cookies and saved website data Cached data and files Download history If you have any form data that is save I would recommend you not clear this. Some people save passwords for different websites and it might be a good idea to not clear this one either. Now Windows 10 will start to clear all the items you have marked in the box. Once it has cleared the history Microsoft Edge will close. You can now open Microsoft Edge and select any website you wish to visit. The website will now open quicker and your Internet browser will no longer freeze or block on you. Good luck. Let me know if this was helpful and you were able to follow these instructions. Image source - screen shot
3 responses

• Boise, Idaho
9 Nov 15
Not sure what the 'form data' is. I don't check it cause am not sure. I do this at least once a week. It was on my list of stuff in my discussion. What I was asking about was a real cleaning of the inside of my laptop. Thanks though. Sure it is helpful to those who don't already do this.

• French Polynesia
9 Nov 15
OK I am waiting to see if I can show some of the other stuff on here. But I know you have problems with cache on your Internet and this is how to fix that problem so you Internet loads faster and you can get to websites quicker.

• Boise, Idaho
10 Nov 15
@poehere
...Yeah, and it does and I already do this one. Thanks for sharing.

• French Polynesia
10 Nov 15
@celticeagle
You have a buffering problem and it is in your laptop. I sent you a link to take care of this. Hope it will help.

• Philippines
9 Nov 15
I just upgraded to Windows 10 but I have not tried using Edge. But at least now I know how to solve Cache problem when I start using that browser. Thanks!


• French Polynesia
9 Nov 15
You are welcome and hope it will help.

• Cambridge, England
9 Nov 15
I haven't yet graduated to Win 10, though I expect to when I get a new computer fairly soon. This will be very useful to know (though I may continue to use Chrome and Firefox as I do now).

• French Polynesia
9 Nov 15
I was asked years ago to become a Windows Insider tester because of my work here on the islands. I tested the new Microsoft Edge and found it fantastic. It is like working in chrome. However, you need to clean it out now and then otherwise it stops loading some pages, loads a page and then freezes, or sort of acts up now and then. I wrote this up today because of another discussion where a person was having problems with their computer and cache. I was asked by a few other people how to do this. I don't like to take over their discussion with the answer so it was easier to write this one up for them. I sure hope it is easy for them to do and understand. I tried to be very detailed in this so they could easily find what is needed. I sure wish we could add some images to the inside of our posts. Sure would make guides easier to write and understand.