Meeting Bill Clinton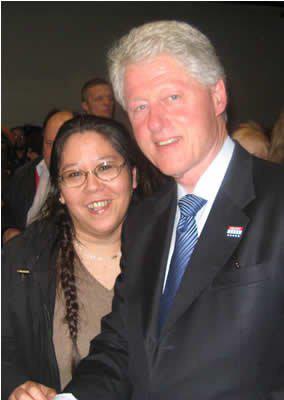 Newton, North Carolina
November 13, 2015 5:14pm CST
I thought he was a great president, sure he made mistakes, but they all do. I met him three years after I lost my eldest son, Ricky, from a motorcycle accident in 2005. That smile you see is genuine, the first big smile I had since he passed away. My spirits were lifted so much after that day. I mean, not everyone will meet a president, but when you do, it is very exciting. I always knew he was a great speaker, but oh how charismatic he was! After he was finished speaking, he came right up to me and shook my hand and winked, lol. I asked if I could have a picture with me and he handed the camera to one of his security guys. I told him he was awesome, and he said, you're awesome too, sweetie I then told him that he would make a great car salesman and he laughed and said he would think about that if his job did not work out :) I wanted to go for a ride in his limo, but he didn't offer. He must be smartening up! Have you ever met a President or someone important like that?
1 response

• Canada
13 Nov 15
That is a great meeting to have and I am glad it brought a smile to your face. Sorry to hear about your son's passing

• Newton, North Carolina
13 Nov 15
Thank you re my son. It's true, I was so down in the dumps until we went to the YMCA to hear him speak. I had no idea that I would meet him! I was excited about meeting a President, too!