Worried

Salina, Kansas
November 14, 2015 8:58am CST
It's another cold morning here in Kansas as I lay in bed typing from my tablet. It's another slow morning getting out of bed as well, as it's Saturday and there's no rush. The last few days I've been worried about my dog. She's a 13 year old begal. Her name is Nattie. Now Nattie has always had hip problems. So she has a limp in her hind legs. She's also always has seizures, but her seizures are getting worse. She doesn't have full blown seizures, just little mini seizures, as I call them. I have taken her to the vet, they have given me a few options, but always follow it with there's not much they can do with her age. I don't have much money either to do many of these option. So I'm torn with what to do.. She's such a happy dog. She's still happy to see me when I get home. She still runs across the house when she hears food. She'll still beg for food with her big eyes. And she's very loving as always. Do you have a furbaby? Tell me about your furbaby......
11 responses

• United States
14 Nov 15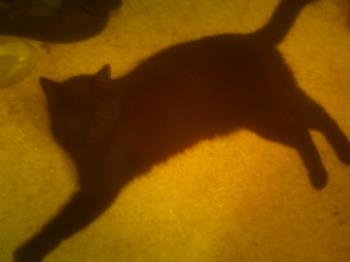 I have written posts about Princess the cat here, while we were moving and Princess herself has authored a few posts. Princess would tell you to make sure Nattie stays warm as that will help her joints feel better and perhaps make sure she has vitamins as that will not hurt with the seizures but may help her out a bit. I am here in Kansas as well. In fact hubby is on his way to your neck of the woods to Harbor Freight. I WILL go walk in a bit.

• Garden Grove, California
15 Nov 15
then cats need heat for their joints just as we do poor ikitt y thats s uch a shame. I miss not being able to have a cat here.

• Greencastle, Indiana
14 Nov 15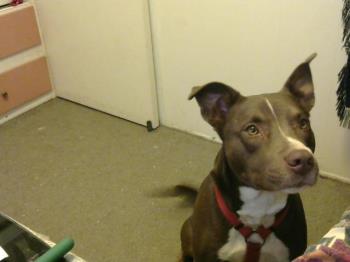 I have (8) dogs so if I was to write about everyone of them you'd be like O M G really? so I'll just say that my babies are just that all babies we go for walks & rides & we play so I have my hands full with them all at feeding time & at play time this is one he's the ONLY pit I have but the rest are Aussies & boarder collies

• Greencastle, Indiana
15 Nov 15
@T_gray
oh by ALL MEANS they are VERY well worth all the time I can give them everyday winters really do a # on me though cause I can't get out & play with them as much with my bronchitis but I try to give them what time I can

• Centralia, Missouri
14 Nov 15
maybe a change in diet could help, I certainly hope something does! I have 3 dogs, an older bostie rescued from being a puppy mill mama, a bostie puppy, and a pom!

• Centralia, Missouri
15 Nov 15
@T_gray
there are some that specialize in wholistic stuff for dogs, or there is always lots of online research!

• United Kingdom
14 Nov 15
I don't have one at the moment, but had to make a difficult decision when ours got to 16 years old. I hope you fet a few more years with Nattie, but you will know when her quality of life is so bad that she doesn't enjoy things any more. Good luck.

• Lenox, Georgia
14 Nov 15
I do have 2 dogs, they are Rottweilers and my babies. Their so sweet and so loving, amazing with all children. =) Their 2 & 6 years old. I will be completely heart broken once they get older and start having health problems.

• Boise, Idaho
14 Nov 15
It sounds like she still have a good quality of life. My daughter has three cats that she is very attached to. All we can do is love them and when they are not enjoying their lives anymore we do have to option to let them go to sleep and not hurt anymore. More than we can do for our human loved ones.

• Boise, Idaho
15 Nov 15
@Marcyaz
...Yes, it is rather sad isn't it?

• United States
15 Nov 15


• United States
15 Nov 15
I understand your quandary. I wrote a post just the other day about my dog and seizures. From speaking with associates who have had similar experience, they tell me that after spending mega bucks on at the vet the end result was the vets never did anything that really helped. I am a naturalist so I have been trying some homeopathic suggestions. If your dog just started, it is possible she has an allergy. Have your recently tried a new dog food or treats? Any new household chemicals? Some insect bites can trigger seizures? You might want to check out my post for some comments that are helpful


• United States
15 Nov 15
I have two fur babies and right right one is three and a half and the other one will be one year old in a few weeks. They are such good babies and are a pleasure to me. I had to have my last dog put down four years ago because she had breathing problems (her lungs were bad) it was the hardest thing I ever had to do and broke my heart, I cried for days. To this day I still miss here as we seemed to be joined at the hip.

• Garden Grove, California
15 Nov 15
I cannot afford to have a ct here m uch as I love them this is a retirement center and to h ave a cat I must put do wn 150 dollars then they raise the rent 1 00 dollars so I just canot afford that