How many of you have watched the TV drama --MAKE IT OR BREAK IT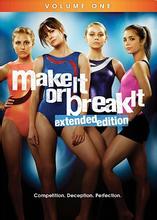 Guizhou, China
November 19, 2015 10:16am CST
Have you ever watched MAKE IT OR BREAK IT ? the drama tell many stories to the audiences. For instance, it tried to inspire us to do something impossible and tells our that nothing is impossible. Life is so hard for gymnasts,because they have to train everyday and don't get time to have a rest . How pathetic they are ! May be most of us tend to think in that way,.actually they training so hard but does it mean they all are unhappy ?? Oh, no, it's not true. And those young women had to train for their dreams when they just was little girls.they all want to go to the Olympic and they all dream of the moment when they can stand on the podium with their golden medal, everybody cheering up for them . Soon the dreams of girls came true.I really like to watch the drama, sometimes I feel awful I will watch it again, I will be on fire. they encourage me to do something impossible. have you ever seen it ? If you haven't watched MAKE IT OR BREAK IT ,it is worth try.
1 response

• Pakistan
20 Nov 15
i haven't seen this is it in English?

• Pakistan
21 Nov 15
@LLSummer
fortunately or unfortunately I am a boy



can i watch it or do i need to have some Gender transplant surgery??

• Guizhou, China
21 Nov 15
@babaraimc
ahaha.It's all up to you.