The kid's had dentist appointments then a day of fun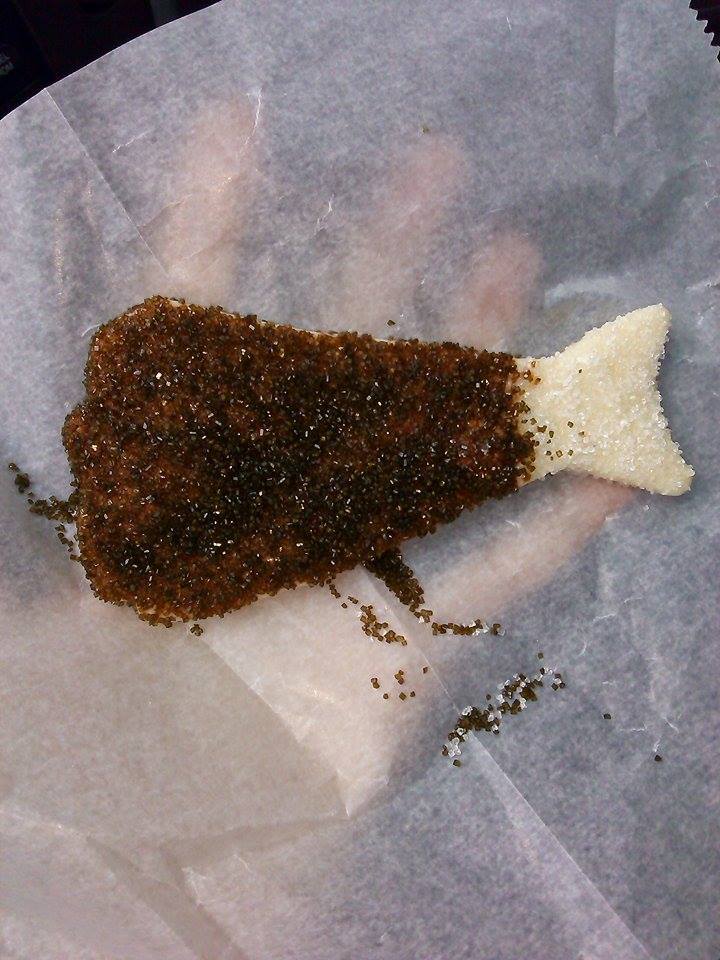 United States
November 19, 2015 7:53pm CST
Yesterday my children both had dental appointments. My daughter's went great. My son unfortunately has 4 cavities in his baby teeth. They are in the back and he will have them for about 3 more years so they have to be fixed. I am dreading this. They have to be done one at a time and I think he is going to be scared to death of getting a needle. The cavities are between his teeth and are from not flossing often enough. His teeth look beautiful I had no idea he had any cavities until they did xrays. During the summer reading program my children got certificates for a free cookie at a local bakery. My children each chose sugar cookies. My daughter picked one shaped like mickey mouse's head covered in blue sprinkles. She loved it! My son chose a turkey drumstick shaped one but he didn't like that taste of it at all. I added a photo of the drumstick cookie as I thought it was adorable. We stopped to get some groceries at Walmart and Kmart which was the boring part. Before we headed home we stopped at a bowling alley so my children could bowl a free game. Again this was compliments of the summer reading program. On our way home we stopped at Mcdonald's and got ice creams. Oddly the dentist had given my daughter a free coupon for an ice cream cone since she didn't have any cavities. Seems like an odd way for a dentist to award them.
4 responses

• United States
20 Nov 15
My children usually get toys, toothbrushes, floss, and toothpaste from the dentist. My 13 year old son had to have 2 baby teeth pulled when he was younger and I felt horrible for him. He's also had 1 cavity. It's really no fun. But make sure you tell your son that this is what happens when you don't floss, it's very very important to take good care of your teeth! Take it from me, I never took care of my teeth so I've had dentures since I was 26. I'd give anything to go back in time and take better care of my teeth so I still had my own!

• United States
23 Nov 15
I have always made sure they brushed their teeth well but never worried too much about flossing. I am really kicking myself now! I feel really bad that he has to have 4 cavities taken care of. I try to get him to use mouth wash as well but he won't. Certain kinds of toothpastes he hates the flavor so much that he gags so I think mouthwash he would react the same way.

• Pikeville, North Carolina
20 Nov 15
Perhaps the dentist was trying to drum up some business by giving your daughter that certificate for free ice cream. I remember when dentists gave out lollipops to kids who behaved during their appointment, until someone pointed out that was a conflict of interest.

• United States
23 Nov 15
It is nice that she got a coupon for a free ice cream. She was really happy about that. My son was not happy that he didn't get one. What you say about the lolipops being a conflict of interest is really exactly what I mean with them giving out ice cream as a reward for taking care of their teeth. I feel like they should pass out apples or something lol.

• United States
20 Nov 15
Even though the teeth are baby teeth, he still has to get them filled and with needles? :(

• United States
23 Nov 15
Yes unfortunately these baby teeth are towards the back and he will have them for about 3 more years. If they aren't taken care of they will get much larger and start to be painful. Plus the longer those cavities are in there the more bad bacteria that is swimming around in his mouth which can cause other cavities.

• United States
20 Nov 15
The dentist was a good place to get that coupon. It shows we all deserve a treat every now and again.

• United States
23 Nov 15
Your right that is true that we all deserve a treat now and then. I am not upset at all that they gave her this free ice cream coupon. I think it was very nice of them but it just seems strange when they promote healthy teeth and avoiding sugary foods to give her a coupon for a free ice cream.