Memories of Thanksgivings past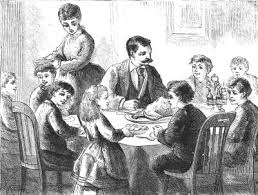 United States
November 23, 2015 12:25pm CST
As we plan and prepare for our Thanksgiving gathering this year it has brought to mind just how different our Thanksgiving Day will be this year. In the past were have always had a house full of people. The laughter of children filled the air as the women prepared the meal and the men watched football. This year the children and their children are all living a few states away and our day will be filled with those of us who are left here. It will be a quite, peaceful day. We will still be with those we love but will be listening for the whispers of those days gone by where the children laughed, the women talked, and the men watched their football. There is a lot to be thankful for - our health, our love ones and our homes.
5 responses



• United States
23 Nov 15
There is always something to be grateful for. It looks like it's just me and my husband this year so I'll make a nice dinner just for us.

• United States
23 Nov 15
Our Thanksgiving will be different this year as well. We will still eat and enjoy the company of loved ones, but there are many who will not be with us that have been in the past.

• United States
23 Nov 15
Ours has also been reduced by number of people visiting or being with us, it is just mom and I BUT since I am working that night, we are moving it to Friday night or Saturday during the late afternoon