An Alarm Call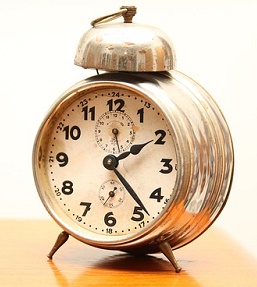 Greece
November 24, 2015 3:20am CST
When I was working in London I awoke every morning to the sound of my alarm clock waking me up in time for me to catch the train to London. When I retired I looked forward to waking up naturally when my body, rather than the alarm, told me to. That was a while ago now and I have come to take this luxury for granted but this morning I remembered it again when the sun shone on my sleeping face and woke me up. It was rather a pleasant wake up call In some ways I think this lack of awareness of the time has had a negative effect on me. Since joining MyLot this has become so obvious that I have decided to resurrect the alarm call. I am using my cell phone alarm now to remind me that it is time to rise from my seat in front of the computer and pay attention to all the jobs that will otherwise be piling up around me. photo:pixabay
10 responses


• Greece
24 Nov 15
I shall try and find it although my cell phone seems to be a great reminder.


• Northampton, England
24 Nov 15
I would love to no longer be a slave to the alarm clock.

• Greece
24 Nov 15
Your turn will come but meantime you could enjoy the ability to leap out bed, run for the train, work all day and still have the energy to go to the gym.

• Northampton, England
24 Nov 15

• Greece
26 Nov 15
@boiboing
Really? You sound so youthful. I'm sorry.


• Philippines
26 Nov 15
I think I need to use an alarm clock too so that I can manage my time more effectively. Mylot can eat up all my time, if I won't be more watchful.

• Greece
27 Nov 15
I've been on five minutes this morning and only managed one comment, this is the second. I thought my coffee break would be long enough to get more done but at this rate I'm already behind.

• Australia
26 Nov 15
I think I have a built in alarm clock .. ;)

• Greece
27 Nov 15
Lucky you Bess, but I have to suspect that you go to bed early?

• United States
24 Nov 15
I set a timer usually for my computer time. The time can slip away so fast. Today I have some FREE time because I usually take care of my great grandson on Tuesdays, but he is not coming today. I will have him for a few hours tomorrow, however. So, I didn't set the timer. I am determined today to learn more about navigating this site. I am also retired and I wake up naturally with no alarm clock jangling. A few days a month I do set the alarm clock, but I have even learned not to make early appointments, because I HATE getting up to the sound of an alarm clock. Even when I was working I didn't have to get up early very often as I was self-employed for almost 40 years. I worked for a Direct Sales Company and I sold jewelry at Home Parties, which were usually done in the evenings and on Saturday or Sunday afternoons. As a Team Leader, I didn't do very many parties. I mainly "managed" my team and trained NEW sales persons. It was a job I loved and I earned good money and lots of FREE trips.

• Greece
24 Nov 15
I trust you are enjoying your free day and learning more about how to use this site to your best advantage. You were privileged to be able to work from home a job you loved that also paid well. I expect it was hard to retire from a job like that.

• India
25 Nov 15
My knowledge that it is healthy to get up and move around is my alarm. They say it is bad for circulation if one sits at one place for long periods. And about neglecting chores that require attention, I am guilty of that with the addiction I have developed for myLot

• Greece
26 Nov 15
It is just so pleasant sitting here chatting away with one another and there is always another notification waiting to be answered. It is a wonder that any of us get to bed at all!

• India
26 Nov 15
@41CombedaleRoad
May this community spirit last as long as we are here


• Garden Grove, California
30 Nov 15
yes my own doctor told me to get up and even just walk across the room anything to get the blood flowing normally but he said every hour and i get too engrossed to do it that often,



• Greece
26 Nov 15
If your mind is busy with writing and responding does that not make it difficult to fall asleep? Thinking about words is supposed to trigger some part of the brain which prevents sleep.

• Australia
26 Nov 15
@41CombedaleRoad
I agree... And it has happened to me before. The 'conversation' I was just having on here kept playing over and over in my mind I could hardly fell asleep...

• United States
24 Nov 15
That is a great idea, I lose track of time when I am on here interacting.


• Greece
27 Nov 15
I cannot get used to the dark evenings, as soon as the sun goes down it gets dark, nothing much to describe as twilight here.

• Greece
27 Nov 15

• Greece
27 Nov 15
I can understand that especially when you have teen to get ready for school.
@thea09

• Garden Grove, California
30 Nov 15
yes that is a good idea as we all get addicted to m ylot and stay here for me I am retired so I can m ylot a lot just so I go to my meals here at the retirement center lol lol

• Greece
30 Nov 15
Perhaps you can convince some others there to join you here as well. It will give you more things to talk about together, you might even form a group of MyLotters chatting away about your next post during your meals...