LUCKY NUMBER 1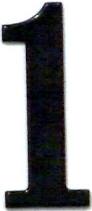 India
November 27, 2015 2:36am CST
hello friends today i want to share story of one person in my country who believe in number.i also believe some way or we can say lucky by selecting number.we all have some lucky number like me i have 7 number when ever i have to bet or something which related with number i chose 7.this is my opinion. now here one person gave 8.1 lacs rs(12450 $)for the number for his scooter which is just of 50,000 rs(770 $),he want to purchase number 1 and bid rate is start for 70000 rs(1076 $).i not understand some are this kind of money spend behind fancy number which price is more then scooter price almost 10 times. so have you ever seen this kind of person who feel really lucky number help him or do anything for it.?
7 responses


• India
27 Nov 15
yes we have to do handwork otherwise not get anything but for him 1 number is lucky so he think he could pay anything for it.

•
27 Nov 15

• India
27 Nov 15
@sofssu
yes if not to much money how he spend it like this way.


• Philippines
28 Nov 15
He is obsessed with number 1 lol! He will learn his lesson someday I bet. Numbers can't determine our future. Only God. So I don't believe in luck of whatever sort. I only believe that if I work hard and honestly I will reap the rewards.

• India
28 Nov 15
yes you are right but he has lots of money and may be he think that he earn money by lucky number one but its not true,if w work hard and keep patient we can earn more.but its like fashion here most of people spend money for their number plate of the vehicle.

• Philippines
28 Nov 15
@birjudanak
oh welll one day he will discover the truth. I know one who believes number 7 is his lucky number but on the 7th day of the 7th month, in the year 2007, he was sentenced to be imprisoned for life because of a crime he committed.

• India
28 Nov 15
@salonga
in some stage its good like i feel 7 is my lucky number so if i buy lottery or betting on something i chose my number including 7 digit and in may be i get return.but when i bought my bike and that person ask me for number i ask i want 7777,he said you have to pay extra for special number so i said ok i not want it ,give me which number come and its without money,luckily there is 8773 is my number .so i am not that kind of fool to spend this kind oh money without any reason.


• United Kingdom
27 Nov 15
It is crazy isn't it. A friend of mine rang up a company before to see how much the number plate J1 would cost it was £160,000 or something crazy like that. He had no intention of buying it he was just curious x

• India
28 Nov 15
yes really crazy some people do this craziness for showoff and only when lot of money so they not understand where i use this much money.

• United Kingdom
28 Nov 15
@birjudanak
Even if I had that much money I don't think I could ever be that silly with it, I would want to do some good with it not just show off x

• India
28 Nov 15
@shellyjaneo
yes if we have lot of money its doesn't mean we spend it like water,when big problems comes it show how important it is.


• India
27 Nov 15
yes its lucky but you are not become that kind of madness behind number for spending this amount of money,money which he spend in it he can buy new four wheeler.

• Philippines
27 Nov 15
@birjudanak
Because he has the money, my friend. He has all the reasons to buy it despite its very high cost.

• India
27 Nov 15
@KnehKnah
you are right otherwise he not do that but still he don't know how much time to need to earn that amount and we cant spend it like this instead of needed.

• Philippines
27 Nov 15
Maybe he is just so rich , that he will spend a big amount just to have that number for his scooter .

• India
27 Nov 15
its confirm he is rich because no one is spend this kind of money for just 1 number, but here there are lots of people who spend some amount to take their numbers, like if someone have one scooter already with number 1234 and they took new one then also spend money for this number.

• Philippines
27 Nov 15
@birjudanak
Oh in that case it's only the rich who can do that .

• India
27 Nov 15
@SIMPLYD
yes mostly richer do it but look our government who also take advantage of it.some middle class people also do it but spending less money for just show off but don't think when you meet accident and run at that time this number is easy to remember.

• Perth, Australia
6 Dec 15
I personally do not believe that any numbers are lucky or unlucky but there are plenty of people out there who feel lucky by seeing a certain number or completely freak out when they see an "unlucky "number.

• India
6 Dec 15
i also not believe but when something with related with matter of money i not spend behind it.they have lot of money then they can spend like this,they not value for money but when the not have money then realized.

• Singapore
27 Nov 15
I believe in lucky number but not in association with lottery. I think lottery is really more of a mind matter. Those who believe in the law of attraction, and know that they will win sooner or later will win. They have put in a lot of effort to change their mindset.

• India
27 Nov 15
yes your lucky number for lottery would be right because you choose for lottery but here he spend lots of money for it which very difficult to understand if he spend for some important thing that its OK but for number ha ha.