Another Year to be Thankful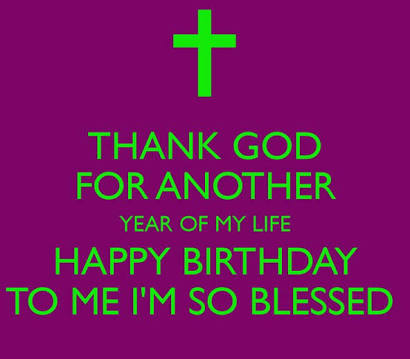 Philippines
November 27, 2015 7:13pm CST
So today is another year in my life. Another year to be thankful and grateful for all the blessings I received not just for the whole year but for the years of my existence. I've been through so many ups and down in my life especially when I got pregnant but God is great, he always sent someone to back me up when I really needed it. I am so thankful for my family for always being there for me, for being so supportive and for my closed friends who stick with me in any time of my life. I never lose hope because I know God is with me all the time.Thank you Lord for another year of my life, for unlimited Blessings everyday. Thank you for giving me the strength to keep going when all I really want to do is give up.Thank you Lord, for all the experiences that you gave me this past year, for the failures that molded me to be stronger and drove me to come closer to you. Thank you for all the sadness & problems that reminded me of my weaknesses and made me realized that I really need you. Thank you God for the daughter who never fails to amaze me and always keep me inspired to move on with my life. Thank you for giving me a caring and loving family & a true Friends. Thank you for all the people who remembered me today by sending messages and good wishes. As for my birthday wishes for this year, God, Please give me more strength to face all the challenges that lies ahead of me.A good health for me & for my family and friends (including online friends). Thank you for this beautiful day Lord! Happy Blessed Birthday to me!.
2 responses

• United Kingdom
28 Nov 15
Happy Birthday I hope you had a lovely day x

• Philippines
29 Nov 15
Thank you. I had a wonderful day, my daughter woke me up singing happy birthday mommy!. And my sister came over though no celebration which is I dont like spending time with my family is a celebration.

• United Kingdom
29 Nov 15
@hlfbldmom
Oh that is so cute I can't wait until my little boy is old enough to do that for me :) x

• Philippines
29 Nov 15
@shellyjaneo
how old is your little boy?.Time flies so fast so a year or two he will be singing happy birthday to you and blow the cake for you as if it's his birthday.


• India
28 Nov 15
wish you a many many happy returns of the day and i wish you will get more success in upcoming year and you and your daughter always blessed by god.i hope you enjoy your birthday with fiends and family and make it memorable.

• Philippines
28 Nov 15
Thank you. I had a great time with family no celebration at all but being with them in my special day is a gift. And knowing that God gave me another year of life is big blessings.

• India
28 Nov 15
@hlfbldmom
thats nice spirit. keep it up and best of luck .