Amish Buggies on My Mind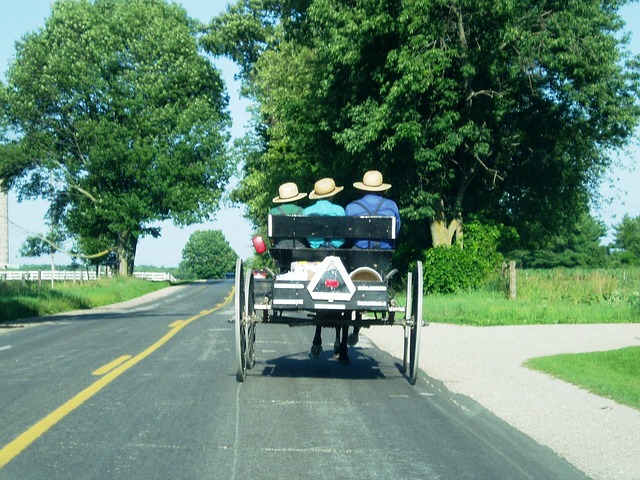 United States
November 29, 2015 12:48pm CST
For some reason I have been thinking about the evenings when I used to lie in bed and hear the horses pulling the Amish buggies past my window, clip, clop, clip, clop. I used to lie there listen to the clip clop getting slowly louder and then fading away. It was a gentle, reassuring sound, I'm not quite sure why. We lived up north by the Canadian Border at that time. I would take great delight in stopping at the Amish vegetable stands and talking to the people. The little girls and boys were so polite and proper, adorable in their Amish clothing. I miss Amish country.
4 responses

• United States
29 Nov 15
We have two mennonite communities not far from here and we see them and their buggies in town all the time.

• United States
29 Nov 15
@marlina
The first time we saw them here we thought we were seeing things! Now we go to their farm markets and buy their wonderful items.

• Oklahoma City, Oklahoma
2 Mar 17
It's nice how memories work like that ... how you remember all the nice things about 'where you once were,' and how you can share that to "lure people in" (as long as you don't tell them any of the 'bad things' that come along with them)? What were the bad things---bad-enough that you had to move out of Amish country? Was the Ordnung too harsh that you had to be free from it?

• Oklahoma City, Oklahoma
3 Mar 17
@HazySue
Well, you've heard "Be the change you long to see in the world?" Maybe if you start
living
the simple life, maybe it'll catch on!


• United States
4 Mar 17
@mythociate
you never know. I am rather attached to electricity, I think it's something I could not give up.


• Gainesville, Florida
29 Nov 15
They live a simple, ordinary life that maybe we should emulate more. We've gotten so sophisticated in our lives that we forgot how nice life can actually be. I'm sure because of their many old-fashioned ways that life isn't easy for them, but at least it's simple. We could probably learn a lot from the Amish.

• United States
29 Nov 15
@moffittjc
I think you are correct. Sometimes I do long for the simpler life that they do lead.

• Gainesville, Florida
29 Nov 15
@HazySue
Over the past year, I have been trying hard to simplify my life as well. There's no need for everything in life to be so darned complicated all the time! I'm working on getting back to the basics!