PayDay & X-Mas Shopping!

Santo Domingo, Dominican Republic
November 30, 2015 12:39pm CST
Im happy that today is payday so I can finish buying our christmas tree decorations. I bought a 6 foot tree last week and was waiting until I got paid to buy the ornaments and christmas lights. I am going after work to pickup everything and when I get home il set everything up with my wife. Hows your Monday going?
11 responses


• Santo Domingo, Dominican Republic
1 Dec 15
Mine was a bit hectic as well with payroll ect

• United States
1 Dec 15
I hope you enjoy decorating the tree. We won't have a proper tree this year but I have a few decorations to put everyone in the spirit.

• Santo Domingo, Dominican Republic
1 Dec 15
Im excited to see my kids face once the tree is up

• United States
1 Dec 15
Nice! 6 ft tree must be nice. Enjoy decorating your Christmas tree with your family! I am going to put up my mini Christmas tree soon too! Happy Holidays!

• Santo Domingo, Dominican Republic
1 Dec 15
Yeah today il post a picture once its ready


• Santo Domingo, Dominican Republic
1 Dec 15
Well I didnt buy a tree for the last 4 years but now that my kids are older il be setting up the tree and il put it away for next year once christmas is over

• Daytona Beach, Florida
30 Nov 15
@BACONSTRIPSXXX
sounds like you got an awesome tree. We start decorating mid December and our tree is usually just a small one bought at market. Once you get done decorating I expect a picture of your tree. My Monday is much too short. Here I am catching up with all of my friends here, still have to post on my blogs and a couple of more correspondences and it is already 10:30 PM

• Santo Domingo, Dominican Republic
1 Dec 15
Sure thing, Il post a picture tonight once its ready

• United States
2 Dec 15
Sounds like a great idea. We our not doing a tree this year as the kids won't be coming here. We are going to their place instead. Enjoy it

• United States
1 Dec 15
I don't have a big tree. I have small LED tree. I don't decorate it. I used to put on a big tree, but I like my little tree.

• Singapore
1 Dec 15
I do not really understand why the need to have a Christmas tree and all the decorations. We can always go to the shopping centers to look at the huge tree, and all the bright lights. I rather spend the money on food, and useful items. At least I get to eat!

• Eugene, Oregon
1 Dec 15
I only put up a prelit tabletop tree every year, and I have the ornaments in a box, and I just choose which ones I want to use, as i change every year, and alternate. I find it works pretty good that way, even though, I am the only one that sees the tree, I want it to look good in case I do get someone over. I find that a tabletop tree works the best for me, since I live alone, and I don't have to take it apart, as I just leave it in the stand, and put it in the closet.


• United States
30 Nov 15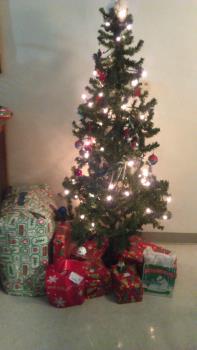 Well I would not mind seeing a picture of the finished tree. I did fix mine after the image was taken and added more gifts. But here is my tree.

• St. Petersburg, Florida
3 Dec 15
The smell of real Christmas trees in a tree lot just make me swoon. The smell just reminds me of the magic of Christmas, when I was a kid.